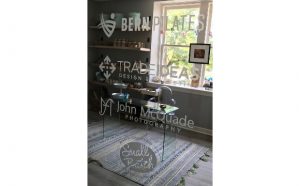 Small Batch Graphics + Goods is now open for business on the second floor of the historic Dunn Building, above Peacock's Plume, at 250 Pollock Street in downtown New Bern. The unique space features a variety of hand-crafted goods, including pottery, glassworks, bath and beauty items, jewelry, and photography and prints from Dr. John McQuade. It's the perfect place to find a special gift for a friend or family member or a distinctive corporate gift.
Owner and founder Shannon LuQuire got the idea for Small Batch Graphics + Goods when her clients at Trade Ideas, Inc. tasked her with finding memorable gifts for their customers. She selected gifts and completed the deal with custom-designed tags and packaging for a one-of-a-kind show of appreciation.
When Trade Ideas moved to the Dunn Building earlier this year, the space was a perfect fit to showcase a variety of goods customers could purchase for clients, themselves, or as unique gifts for loved ones. LuQuire has taken time over the summer to bring the creations of talented artisans to the public, hand-selected each item and purchased in small batches—hence the store name. Quantities are limited and, because each item is a custom piece, no two items are identical.
"My goal is to showcase the amazing talents of selected artists and to share the stories and crafts of these exceptional people. Small Batch offers gifts and goods you can't find on a typical shopping trip," says LuQuire. "Come by and find the perfect item for a housewarming, bridal shower, wedding, birthday, anniversary, and so much more."
Small Batch Graphics + Goods will host an Open House Thursday, September 14 from 2:00 p.m. until 6:00 p.m. Bring a friend and take a tour of this newly renovated space and discover a new favorite artist.
In addition, Small Batch Graphics + Goods will be the newest edition to ArtWalk this season and welcomes you to visit every second Friday of the month. We are looking forward to our first crowd on  Friday, September 8. Shop in the store and online at SmallBatchGraphics.com.
Submitted by: Shannon LuQuire, Small Batch Graphics and Trade Ideas, Inc.