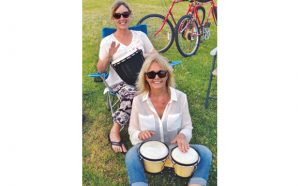 Update: 
Due to a extremely unhealthy heat index and threat of thunder storms, we are unfortunately cancelling the drum circle tonight. We look forward to cooler days ahead. 
New Bern Parks and Recreation and the Greater Good Gallery present the "New Bern Drum Circle". Our community drum circle is a free public event to be held at Union Point on Friday, August 18 from 6pm until sunset.
Come enjoy an upbeat evening at Union Point Park. Bring your drums/percussion instruments or borrow ours. Don't forget your lawn chairs and community spirit. It's cooler where river breezes dance, so join in on the fun.
For more information, contact Andrea Clements Thompson by email, visit the Greater Good Gallery, 228 Craven St., New Bern, daily 11am to 3pm, or call 252-649-1712.
Submitted by: Lisa Bisbee-Lentz, Greater Good Gallery