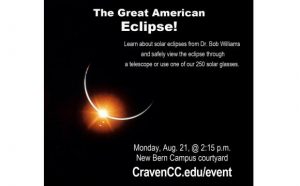 Monday, August 21 at 2:15 p.m. at New Bern campus
Event is Free and Open to the Public – Rain or Shine – Solar Glasses Provided
Come view the solar eclipse with Craven Community College (Craven CC) students at 2:15 p.m. on Monday, August 21 on the New Bern campus. The college will provide 250 solar-safe glasses on a first-come-first served for use by the public and students. Dr. Robert "Bob" Williams, Craven CC astronomy instructor, will speak about the science of how solar and lunar eclipses occur and the reasons for their rarity. Williams will walk the audience through the stages of the eclipse.
From our viewpoint in Craven County, the sun will be covered by the moon a maximum of 92 percent at 2:48 p.m. – the approximate totality. This will dim the sun by about 4/5 for several minutes. The eclipse will begin at 1:21 and finish by 4:09 p.m. Craven CC's event begins at 2:15 p.m. and continues until 3:30 p.m (EST).
"Under no circumstances look at the eclipse because severe damage including blindness can result," Dr. Williams reports. "The retina contains no pain receptors so that the damage would not be felt. Looking at a partial solar eclipse is more dangerous than looking at the sun ordinarily, since the darker image will dilate the eye's pupils and admit more light," said Williams.
If the clouds move in and the sun is not visible, we will continue the event indoors and connect to NASA's live streaming event in the Student Center.
Brought to you by Craven CC's Liberal Arts and University Transfer program and the Phi Theta Kappa Honor Society, Alpha Phi Nu student chapter.
Submitted by: Deborah Kania, Communications Director, Craven Community College