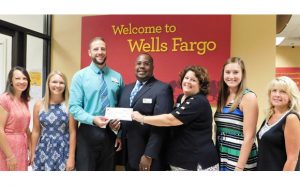 Sasha Goldberg, Officer and Branch Manager at the downtown New Bern Wells Fargo, presented a check in the amount of $1,000 to Partners In Education for the awarding of a grant for the 2nd Grade Economics and Community Unit at A.H. Bangert Elementary.
The grant will provide funding for "Market Day" supplies where the students create their own products and use their knowledge of supply and demand to market their products to the other students at the school.
The funds will also be used for a community field trip in downtown New Bern where the students will visit businesses such as Wells Fargo.
For more information on PIE, visit CravenPartners.com.
Submitted by: Darlene Brown, Executive Director, Craven County Partners In Education