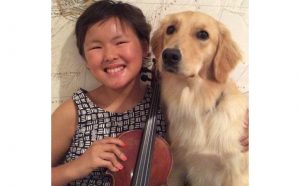 A benefit concert in support of paws4people foundation featuring Anna Nicholson on the violin and cello accompanied by Rachel Pino on the violin and Dayton Vesper on the piano will be held Sunday August 27 at 3:00 pm at Orringer Auditorium on the campus of Craven Community College.
The Wilmington based nonprofit, paws4people, is on a mission to educate and empower people to utilize Assistance Dogs to transform their lives. Presently, they specialize in training customized Assistance Dogs for two general groups: children and adolescents with physical, neurological, psychiatric, and/or emotional disabilities; and Veterans and Service Members with Chronic/Complex Post-Traumatic Stress Disorder (C-PTSD), Traumatic Brain Injuries (TBI), and Military Sexual Trauma.
Anna was given an assistance dog to help mitigate some of the challenges she faces as a result of her autism and reactive attachment disorder. The Benefit concert is to raise money in support of paws4people's pay-it-forward campaign so they can continue to provide these highly trained assistance dogs to change lives.
Submitted by: Wendy Nicholson