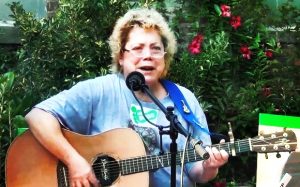 On Friday, August 11 during ARTcrawl, enjoy live music with local musician Bobbi Waters who will play from 6 – 8pm in the Isaac Taylor Garden. From 5 – 8pm, new and established artists will be at 228 Craven Street in the Isaac Taylor Garden and around the perimeter of Greater Good Gallery.
Jon Derby will be capturing the event with his camera. Carol Jones and Carol Jones will be oil painting. In The Wind Beading will showcase Elisa Schulman's new pieces. Nancy Zachewicz will be there with her hand painted, lighted wine bottles. Se'rah Cheatham will exhibit her newest paintings. Curtis Blake will display his aerial photography. Mattie Brown will work on her miniature sculptures. James Taylor from Swansboro will be there for his first showing in New Bern. Paden's Treasure Chest hand-picks every shell and makes jewelry from start to finish. Brian Cardoza will be doing free spin art for all those that want to participate.
If you would like to setup a table during the ARTcrawl, email the Greater Good Gallery.
Submitted by: Lisa Bisbee-Lentz, Greater Good Gallery