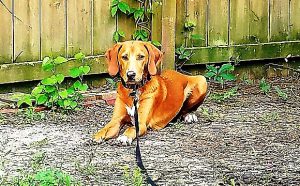 I'm writing this from personal experience in hopes to help people make the right choices when considering adopting a dog.
Some of you may remember Boo, New Bern Now's Mascot. He passed away in July of 2016. I never thought that I would ever consider having another dog as I really had a hard time coping with his death. He was 12 years old and was so stressed out from the 4th of July fireworks and a week of thunderstorms that his heart couldn't take it.
In April 2017, I saw Finn, a redbone coonhound mix, on a Shelter Facebook page (not Craven-Pamlico Animal Services Center). His owners surrendered him because he supposedly had "food aggression" issues. He was approximately 4 ½ – 5 months old.
When I drove almost an hour to meet him, he was so thin that his ribs were sticking out. I went back the next day and once I spent time with him, that was it…I fell in love and signed the paperwork. After I adopted him, he didn't exhibit any food aggression tendencies. His previous owners had left him outside with other hunting dogs and he hadn't been socialized. I don't think he was ever walked on a leash.
When I brought him home he ran around like a crazed dog, jump up and bite me. Although I haven't owned a puppy in over 30 years, I did a lot of research before I adopted him and was dumbfounded by his behavior. After visiting Craven Animal Hospital, I realized he was acting out because his intestines were being chewed by hookworms. Poor guy! Once we was treated, he was full of energy, but his aggressive behavior stopped.
I wanted to share some of our growing pains as things to consider before adopting:
– Exercise: I'm a hound lover, but I honestly didn't realize how different hounds are. Boo was a foxhound mix and I thought he had a lot of energy! Coonhounds are a different story. They are high energy dogs and need a ton of exercise! Finn is 8 months now and needs to be walked at least 2 ½ – 3 miles a day. I enjoy exploring nature by taking an easy walk in the woods, but then Finn came into my life and walking has taken on an all new meaning. Now I spend at least 40 – 50 minutes a day walking him around my neighborhood, local parks, and around town. On days that I can't commit to walking him that long, I take him to Dog Day Play at A Dog's Dream as it's close to home and he loves going there! There's also Lynaire Kennels and Jill's Pet Resort.
– Establish trust: You can try to train a dog, but if they don't trust you, it won't be effective.
– Training: I wasn't prepared to spend at least 10 – 15 minutes every day training. I thought training was teaching the basics of sit, stay, come, etc. Wow, was I wrong. He knows how to do all of the above; but unless you commit the time (5 minute sessions to keep a puppy's attention), it won't work. Repetition is key!
– Be calm and consistent: I find this the hardest when your pup is trying to establish dominance. You need to be the pack leader. If you ask my friends, they consider me to be pretty laid back. When Finn pushes my patience, I try not to raise my voice and stay calm, but if I get frustrated, he can sense it. It's very important to establish yourself as the alpha dog. It's also very important to establish boundaries and teach with positive reinforcements techniques. Some dogs are driven by toys and praise, but Finn is food driven. He's a scent hound and will do pretty much anything for stinky treats. Find out what motivates your dog and use it as a training tool.
– Don't coddle your dog when they're stressed out. If they are in a heightened state of anxiety and you pamper them, you're only telling them it's okay for them to be stressed out. I did this with Boo without knowing it was wrong. To this day, I wonder if I contributed to his demise by babying him when he was stressed out. I'm not saying not to comfort them. Be calm and let them know it's ok, there's nothing to be worried about.
– Think about where they'll sleep. At first, Finn stayed in the crate at night with the door closed because he was a puppy and I had no idea what he would do when I was sleeping. Then I let him on the bed. I've always let my dogs sleep on the bed, but when he stretches out, he's the width of a queen sized bed. Now he sleeps on a dog bed on the floor next to me. The first couple of nights your pup may try to sneak into bed, but be consistent and tell them where to go "night, night".
I hope this sheds light on things to think about before you adopt a dog as Finn's previous owners showed up to adopt another dog less than a week after they surrendered him. For some poor dogs, they end up being surrendered over and over and worse.
Finn has changed my life! I'm more active now than I've been in years and I've learned to take time to enjoy life. I'm happier than I've been in a long time!
Please know that I'm writing from my experience and I don't consider myself an expert by any means.
If you do need help training your dog, please contact our friend, Dona Baker at Masterful Dog Training by calling 252-672-5933.
Tell us what you think sending us an email. Visit New Bern Now's Facebook page or sign up for the latest updates by submitting your email address in the right margin on New Bern Now's website.
Wendy Card