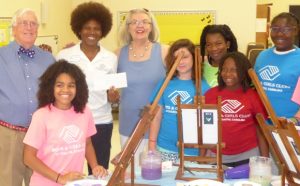 CAW Center for the Arts, Eileen Wroe, Treasurer, presents a check to Dre' Nix, New Bern Area Director, Boys and Girls Clubs of Coastal Carolina, and Nelson MacDaniel, New Bern BGC Advisory Board Member, resulting from CAW's recent Off The Wall fundraiser.
Area artists donated 5×7 canvas paintings that were displayed and sold at the CAW Center for the Arts, 415 Broad Street.
In addition Bob Welch, a studio artist at the CAW Center is teaching a weekly summer art class for interested BGC members.
Submitted by: Eileen Wroe, CAW Center for the Arts