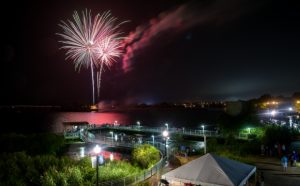 Live reading of Declaration planned on historic site, music and food at North Carolina History Center
Tryon Palace will host The Glorious Forth, a full day of events for visitors of all ages, starting at 10 a.m. on the Palace grounds and ending at the North Carolina History Center that evening with a waterfront fireworks show provided by the City of New Bern.
Historic events will begin during the day as Tryon Palace celebrates the Fourth of July with historical interpreters, games and crafts for all ages, exhibitions, and a performance by the Fife and Drum Corps at 11am. A live reading of the Declaration of Independence will soon follow on the Palace steps.
"I get chills every year when I see our historic interpreters bring this part of our nation's history to life," said Amber Satterthwaite, Tryon Palace Director of Education. "It's one thing to read the Declaration of Independence to yourself, but it's an entirely different experience to see and hear those words come to life."
This free event also includes children's crafts, a firing demonstration by the N.C. Continental Line and free access to the Palace gardens throughout the day. To tour any of the historic buildings or galleries, visitors may purchase a pass at the North Carolina History Center or Waystation.
As the sun sets, visitors can enjoy an evening of food, live music, and fireworks at the Independence Night celebration located in the North Carolina History Center and Bate Commons Waterfront starting at 5:30 p.m.
Independence Night at the North Carolina History Center will include children's games, face painting and bouncy houses, as well as live performances from Tellico, Strung Together, Jonkonnu, and Atumpan. Additionally, food and Italian ice will be available for purchase at the food truck roundup.
The evening activities will end with a waterfront view of the New Bern fireworks from Bate Commons at the North Carolina History Center.
Visitors are encouraged to bring blankets and chairs to Independence Night, but pets and coolers are not permitted. This is an alcohol-free event.
Upcoming events at Tryon Palace include:
July 8: Tryon Palace Gardens Lecture Series
July 11: Behind the Scenes: Conservation Lab
July 12: Palace Pours: Shandies in the Shade
July 13: Ed Bearrs on the Civil War
Submitted by: Craig Ramey, Director of Public Affairs, Tryon Palace