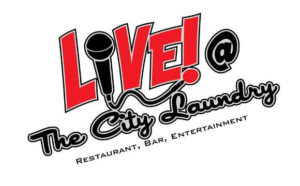 Wednesdays in July Pub Trivia with Austin Vaquilar at 7pm. Come and test your Trivia skills for an opportunity to win great prizes and have fun with friends! Join in the trivia tournament or find a nice cozy corner for a friendly game of Chess or Backgammon! Or bring the whole family to check out our selection of board games. It's all about bringing people together! The kitchen at Live will be cooking up some great compliments for an evening of fun.
July 1st: Billy Holton and the Soul Shakers at 8pm. The Soul Shakers brings high energy Funk, Soul, R&B and Beach music to the stage. Put on your boogie shoes and dance! Tickets $12
July 6th: Smooth Jazz with David Robinson at 6:30pm. Saxophonist David Robinson plays smooth jazz from the Great American Songbook. A nice relaxing starter for the weekend. No cover charge.
July 7th: Adam Hill Band at 9pm. The Adam Hill Band features Hill at the helm on guitar and vocals, with bass player Gordy George in the pocket and drummer Cecil Pittman Jr., keeping the beat. With a style that blends blues and rock, Hill can take you down slow or simply rock your soul like a second coming. $8 cover charge.
July 8th: Joe Baes Project at 8pm. The Joe Baes Project is Mike Galloway (bass/vocals), Jonathan Toler (drums), Stephanie Edwards (keyboard and vocals) and Joe Baes (guitar/vocals). Playing classic rock, blues, country, and pop. $8 cover charge.
July 13th and 27th: Vintage Thursday with Alisa Mike at 6:30pm. Popular local singer Alisa Mike serenades us with jazz standards from the Great American Songbook. No cover charge
July 14th: An Evening with Mark Twain at 8pm. Local Actor and writer Bill Hand takes us back in time for a visit with the American Author Mark Twain. The performance will include excerpts from Twain's autobiography, essays and short stories. Tickets $8.
July 15th: Bernaroo Electronic After Party at 10pm. The closing event for Bernaroo 2017! Featuring Stvtic Cheez, Bernaroo alum Lavier, DJ Yen, and the return of Tymellord. $5 cover charge.
July 20th: Singer's Open Mic with John Van Dyke and Brandon Banks, 6:30pm – 8:30pm. Local pianist Brandon Banks will join host John Van Dyke for an evening of intimate song. Singers are encouraged to bring sheet music and share their talents. At 9pm Gabrielle Christie's Open Mic. Local musicians, spoken word artists, and singers take the mic. Singer and guitarist, Gabrielle Christie brings grace and charm to the event. Come out and be a part of this very cool gathering of local Artists. No cover charge.
July 21st: Vintage Jazz and Blues with John Van Dyke at 8pm. Join John Van Dyke and the all pro band for a jumpin'& jivin' set of blues and swing! Tickets $10.
July 22nd: Jacob Johnson Live at 8pm. Jacob Johnson is a nationally touring acoustic guitarist/singer-songwriter based out of Greenville, SC. Part virtuoso and part storyteller, you might say that Jacob does with a guitar what Gene Kelly did with dance. His songwriting has won awards and his guitar-playing has put him on stage with Tommy Emmanuel and Phil Keaggy but his ability as an entertainer is what has won him fans throughout the southeast. Tickets $10.
July 28th: StoryTellers featuring Patrick Bliss at 8pm. Local Actor and Singer Patrick Bliss presents a concert featuring the best told stories of 20th century Folk and Americana. Featuring the music of Bob Dylan, Jim Croce, Don Mclean, Johnny Cash and many more. Cover charge $10.
July 29th: Improv Comedy Night at 8pm. Improv Comedy Night featuring some of the best teams from across the Carolinas. Come and explore the hilarious, unpredictable world of improv comedy. Tickets $7.
For more information, please visit Live @ The City Laundry, 901 Pollock St. or call 252-876-7007.
Submitted by: John Van Dyke