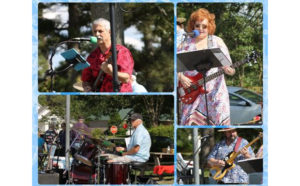 The Bears, New Bern's favorite oldies band, will celebrate Independence Day with a free performance in River Bend!
The Bears will perform on the Fourth of July in the gazebo River Bend Town Hall (45 Shoreline Drive), from 11:30am to 2:00pm. Bring a lawn chair, dress in red, white, and blue, and plan to have a grand old time!
The Bears play songs from the Golden Age of Rock & Roll, with harmonies, laughs, trivia, and high jinks galore. A show by The Bears is a nostalgic adventure, with the band's Way-Back Machine set to fun!
Who are The Bears?
– "Yogi Bear": River Bend's own Pat Engeman sings and plays the drums.
– "Baby Bear". River Bend's own Steve Latimer sings and plays guitar.
– "Mama Bear": Janet Montero sings and plays bass.
– "California Bear": Simon Spalding plays bass, fiddle, and guitar.
For more information on the concert or the band, contact Pat Engeman at 678-205-7309.To learn more about The Bears, check out the band's website, TheBears.band.
Submitted by: Simon Spalding