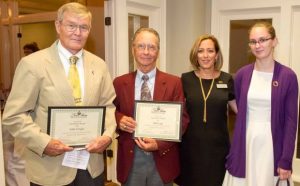 The strength of any non-profit organization comes from the time and commitment of its volunteers. More than 100 members attended the New Bern Historical Society's Annual Meeting and Awards Banquet held recently at the New Bern Golf and Country Club to honor many of the Society's hardest-working volunteers.
Following a silent auction and dinner, Board of Directors President Nelson McDaniel and Executive Director Mickey Miller presented the 2017 Awards: Ambassadorship Award, Wendy Card; Newcomers Award, Bill Long and Cheryl Jukich; Executive Director's Award Phyllis Hoffman; President's Award, Carl Huddle; Extended Service Award, Jim & Kathy Morrison; Education Award, Sandie Swigart & Linda Burke; Battlefield Award, Don Ingraham & John Wright; Lifetime of Service Award, Nat Baggett.
Society members unanimously approved Joe Hunt as President and Kathy Morrison as First Vice President.  Lynne Harakal and outgoing President Nelson McDaniel were approved to fill vacated director positions.  Curator and Nominating Committee Chair Jim Hodges honored Nelson McDaniel and expressed the profound thanks of the Board and the Members for his years of service as President. Outgoing Board member Nat Baggett was also thanked for her many years of service.
Scholarship Committee Chair Mary Parrish introduced New Bern High School Senior Gretchen Deters as the 2017 Harriet Marks Scholarship recipient.  Gretchen and her family were present to celebrate her Scholarship Award. The renewable scholarship provides financial assistance to a deserving senior based on a combination of financial need, scholarship and service to community and school. It can be used for tuition, board or lodging.
The Historical Society looks forward to following Gretchen's successful progress through college.
The mission of the New Bern Historical Society is to celebrate and promote New Bern and its heritage through events and education.  Offices are located in the historic Attmore-Oliver House at 511 Broad Street in New Bern.  For more information, call 252-638-8558 or go NewBernHistorical.org or Facebook.com/NewBernHistoricalSociety.
Submitted by: Kathy Morrison, New Bern Historical Society