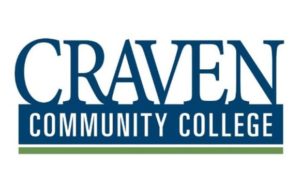 Craven Community College has announced the students who have been named to the Dean's List for the spring 2017 semester. Students earn this academic distinction by completing a college-level course load of at least 12 hours while maintaining a grade point average of 3.5 or better out of a possible 4.0.
Craven Community College Spring 2017 Dean's List
Albany: Shanekia C. Thomas
Alliance: Sierra D. Campen
Apex: Marianna Tilley
Arapahoe: Michaela C. O'Steen
Aurora: Rebekah L. Peed, Brian Pulkrabek
Beaufort: Amelia L. Dixon, Christin N. Shelton
Blounts Creek: Artrisa M. Moore
Bridgeton: Amy L. Cahoon
Broadway: Christina D. Jones
Cherry Point: Ricardo A. Bean, Adonay B. Giron, Yuly R. Pampamallco, Bryan Simpson, Chaw Xiong
Cove City: John R. Baggett, Kenneth C. Dail, Shawn D. Gray, Jonathan I. Jones, Dusten B. Rhodes, Christian T. Styron, Jonathan P. Weldin, Jayla Williams
Currie: Rebecca B. Daniels
Dover: Brandon Johnson, Kaleb R. Smith, Steven Tripp
Emerald Isle: Caitlin A. Dorgan
Ernul: Brooke D. Branton, Lacy Dunn, Jared W. Fulcher, Ethan W. Garris, Tyler J. Swindell, Kristen S. Toler, Sarah E. Watson, Taylor Whitford
Goldsboro: Zachery L. Hall
Grantsboro: Samuel Becker
Grimesland: Zachary E. Moody
Hampstead: Catherine L. McEntee, Robert H. Richards, Jr.
Havelock: Erika R. Adam, Luis A. Alvarenga, Madison M. Anderson, Michael G. Anthony, Amy K. Arturi, Johnell Babino, Jr., Ashton D. Baker, William Barnes, Samantha L. Barrows, Renee E. Becker, Charles D. Begley, Jacob M. Bostian, Alexandra N. Casey, Eric Clark, Robert M. Clements, Marlena Cook, Samantha A. Cotter, Carrie Covington, Ashley M. Crocker, Raymond D. Davis, Joey C. Deschuytner, Joseph Francis O. Dominguez, Ashley J. Dorsey, Lucas Doyle, Sandra S. Duk-Kong, Christina R. Fletcher, Freddy P. Flores, Emily L. Fulwood, Elizabeth R. Garrity-Yohe, Ryan C. Gentry, Michael C. Grudziecki, Randi L. Hagan, Tiffany M. Harwood, Ryan C. Helms, Richard Hoover, Josephine Howell, Brandon J. Hunter, Brianna T. Jones, Amber L. Lawson, Julia M. Leoni, Heather D. Maher, Edgar A. Martinez, Michael K. McGough, Jr., Michael G. Miller, Sylvia B. Moore, Amy C. Nesburg, Jocelyn D. Newton, Cassandra Ochoa, Jessica Olaechea, Shelby Painter, Rocio Pineda, Andrew Preston, Christina L. Prusakowski, Pedro Rios, Jr., Louis M. Rivera, Mikala M. Roberts, Stephen D. Sabedra, Brian J. Sagaser, Ansleigh M. Sapp, Matthew J. Shaw, Mohammad Sheikh, Troy M. Shipman, Alicia S. Skinner, Johanna C. Sorensen, Kelsey Spangenberger, James R. Strange, Jr., Bethany A. Strange, Jacob M. Temple, Timothy S. Thompson, Benjamin J. Toner, Tiyanna Tunstall, Jecca E. Vasquez, David T. Villanueva, Christopher M. Waterhouse, Bradly D. Watkins, Johnathan R. Wilder, Johnathon M. Winter, Ashley Hamlin, Kathleen M. Yarbrough, Samuel J. Zink, Elizabeth F. Zocher
Hubert: Joshua A. Crouse, Jennifer M. Wilson
Jacksonville: Sheila D. Adea, Jamie M. Barwick, Shanelle T. Campbell, Kevelyn L. Eberhardt, Daniela Larson, John V. Lewis, Krystal Roman, Samuel Webb
Kinston: Stephen A. Frazier
Maiden: Jennifer Rowan
Marshallberg: Delsie Davis
Maysville: Daniela C. Dedge, Paige M. Fike, Ryan S. Holland, Cristina M. Matthews, Jody Reep, Robert W. Townsley
Morehead City: Todd J. Derise, Harrison Saunders, Kemp B. Wickizer
Mount Olive: Ethan M. Brock
New Bern: Eboni M. Anderson, Thomas G. Arboe, Andrea Babic, Melisa Bacott, James D. Baker, Riley D. Batchelor, San L. Bawi, Tori M. Beaman, Venice R. Beattie, Kimberly L. Bell, Dakorri S. Bell, Gregory C. Bennett, Nicholas Black, Jacqueline B. Black, Aundrea Blaine, Alexander J. Block, Matt R. Blockholm, Mary K. Bobbett, Allison N. Boswell, Frances L. Boush, Ashley N. Bowers, Rachel L. Boyd, Christopher W. Boyd, Alexis J. Bradley, Hayley O. Britt, John D. Burke, Kayla D. Cannon, Madison D. Carroll, Mary Kate Cawman, Sarah Kate Childs, Ms. Renee L. Chrisman, Meredith A. Clark, Madison C. Clay, Myron W. Clements, Samuel E. Colon, Shai're Courman, Collins B. Creech, Summer N. Cunningham, Taylor F. Daughtry, Samantha E. Davis, Leia A. Davis, Justice R. De Andrade, Iramia Desjardins, Aiesha A. Durham, Christine Elliot, Karen S. Fisher, Alyx N. Flores, Corey M. Fox, Shawniece Franklin, Taylor C. Frankum, Alexandra D. Fravor, Kenya Y. Gainey, Ashlee Gambacorta, Christel A. Geier, Tabitha L. Gibson, Amy N. Glenowicz, Emily Hair, Jamie D. Hardison, Michael S. Harper, Leanda M. Harper, David D. Harr, Joseph A. Heckman, Juan D. Hernandez, Alejandra Hernandez, Brendon W. Hildreth, Lexington L. Hoffman, Ryan F. Jackson, Cory R. Jaco, Alexander M. Jestness, Tyler R. Johnson, Savannah N. Johnson, Savannah F. Jones, Madison Keel, Gary J. Kellum, Alexandria L. Kirian, Lindsey N. Knapp, Tuanna S. Koonce, Shelby R. Lane, Jacqueline D. Lanier, Charles E. Lawton, Too T. Lay, Sonnie J. Leavenworth, Nathaniel J. Lebo, Joseph R. Leggett, Jeffrey C. Mabe, Catrina J. Mack-Cook, Cassidy A. Martin, Carly E. Mathiot, Kasey G. Matthews, Alisha R. McClure, Kimberly B. Mercer, Shakoora Y. Miller, David Miller, Brian C. Momsen, Ethan J. Monachino, Abbigail L. Morgan, Chelsea N. Morris, India M. Murray, Aaron Nanney, Amy L. Nelson, Alejandra M. O'Malley, Jacob T. Oakley, MacKenzie R. Patak, Carla M. Petteway, Dustin A. Pierce, Gabriel A. Pierre, Natasha K. Piper, China Pol, Lisa S. Pomeroy, Keith R. Poole, Lourdes Porter, Latonnia R. Pugh, Matthew G. Revenaugh, Cody M. Rios, Jessica C. Roadman, Katelyn A. Roberts, Darby M. Roberts, Hang Rocham, John R. Rochelle, Michael H. Romeka, Daniel H. Rouse, Timothy P. Ruth, Roberta W. Salvador, Carleen D. Sarsfield, Michael A. Scheidell, Jr., Eric S. Sexton, Victoria R. Shackley, Tanner L. Skidmore, Ray L. Smallwood, Kelvin B. Smith, Dylan T. Smith, Dashon N. Smith, Jamir Smoak, Kelly E. Squires, Shaun Staab, Zachary J. Stapleton, Shannon Stephens, Da Thwee, Timothy W. Togafau, Tyler G. Toohey, Felicia Turk, Joshua R. Unruh, Ashley H. Vallera, Lisa Marie A. Van Apeldoorn, Hailey P. Voliva, Bailey S. Wallace, Mr. Brian D. Ware, Dakota D. Weathers, Gloria I. Whitfield, Ryan G. Wickman, Royce Williams, Barbara F. Williams, Haylee N. Willis, Richard A. Wise, II, Jo-Waynia Woolard, Leigh Ann Wyrick, Jaseline H. Zheng
Newland: Cody M. Reiling
Newport: Katelyn M. Adams, Mirandah E. Barley, Jordan T. Bell, Mitchell B. Bryan, Sarah P. Chewning, Daniel E. Colwell, Rachel H. Garrity, Stephanie N. Hall, Ryan T. Lewis, Justin T. Locklear, Kirby L. Mills, Sherika L. Norman, William L. Platt, Annalee M. Skimehorn, Gary D. Treece, Carter G. Whitlow
Pilot Mountain: Karen L. Roth
Pollocksville: Shane Ecklund, Patricia D. Eubank, David R. Holton, Ashleigh M. Woods
Raleigh: Ashleigh M. Woods
Richlands: Aaron D. Smith
Seven Springs: Claudia A. Davila
Smyrna: Matthew L. Fulcher
Snow Hill: Brianna Bell
Stella: Cody J. Smith
Swansboro: Dulce Beam, Elijah R. Hyden, Andrew P. Wilwerding
Trent Woods: Samuel A. Aldridge, Elizabeth A. Branson, Alexandra Retzer, Phillip M. Rostek
Trenton: Linwood T. Jones
Vanceboro: Stephanie Aguirre, Latisha M. Benefield, John T. Griffin, Brian M. Holloway, Joseph F. Jackson, Foynequa D. Keyes, Amanda Malenfant, Courtney T. Moore, Betty F. Romero, Paul S. Yaeger
Warsaw: Laurence D. Hatfield
Washington: Joel L. Hurley, John F. Maurizzio
Submitted by: Deborah Kania, Director of Communications, Craven Community College