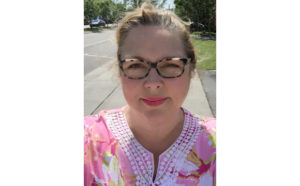 Meet the Coastal Women's Forum (CWF) 2017 Scholarship Winner
"My immediate goal is to attain my Bachelors' degree in Nursing from UNC-Wilmington after graduating from Craven Community College (Craven CC). My long-term goal is to become a Nurse Practitioner." These are the plans of CWF's 2017 Scholarship recipient, but Deanne Holliday graduated from high school decades ago.
Deanne's journey from cap and gown in Los Angeles to nurse's uniform in New Bern was long, painful and strewn with seemingly insurmountable obstacles, but nursing was always her aspiration. Now, through courage, determination, perseverance and a hand-up from her $2,000 CWF Scholarship, her goal is within reach.
Born in Wilmington, NC, and raised in California, Deanne's exposure to healthcare came early through her mother's career as a pharmacist. Upon graduating from High School, Deanne entered a four-year nursing program, and seemed to be on track for earning her degree. But toward the end of her final semester, family crises and serious health issues prevented her from completing her studies.
Because Deanne had completed the first two years of her program, she was able to work as a Licensed Practical Nurse (LPN). Years went by, and obstacles, disappointments and setbacks steadily mounted, but Deanne never gave up her desire to complete her nursing degree.
Inspired by women like Deanne, this year has seen a change in the CWF Scholarship Program. "Life gets in the way many times for women and their education," said CWF President, Jane Maulucci. "It is not always a straight shot from high school to higher learning. The CWF wants to give an 'atta-girl' financially and personally to the women who make the choice to get back to their educational goals."
"When I was accepted into the Nursing Program", Deanne recalled, "I didn't know how I was going to pay for my textbooks and supplies. Being named this year's CWF scholarship recipient has made all the difference! My $900 required Nursing Fundamentals textbook will be covered along with a few other books, uniforms and supplies. Thanks to CWF, I can craft a life I've been wanting to have without experiencing an enormous financial burden."
Even before Deanne knew she would receive the CWF Scholarship, she had a plan. She attended Craven CC in order to complete the required general education courses she would need for her Associates Degree in Nursing. In two years, Deanne will begin working toward her Bachelor's Degree in Nursing at UNC in Wilmington, followed by a year working in the field. Then she will return to school to earn her Masters. This will put her in position for doing the kind of patient-based nursing she has always longed to do.
In an effort to reduce her time at UNC from two years to 18 months, Deanne, along with her regular classes at Craven CC, will take the general education courses she'll need for her Bachelors Degree. "Although I'm not working right now", Deanne explained, "School is my job. I put everything into it."
Deanne wants to work in the area of family health. For her, helping people who are uninsured or underinsured is of great importance. Working with mobile health units such as mammogram vans is something she hopes to do, even as a volunteer. "Making a positive impact on my community is vital to me," Deanne said. "It's not about what you get in life; it's about what you give."
"As CWF's first scholarship recipient in conjunction with Craven CC, DeAnne epitomizes the organizational goals of our new scholarship program," said incoming CWF President, Sandy Eichelberger. "Her commitment to achieving her goals and desire to give back to our community, despite major setbacks, are nothing short of admirable."
You can have the pleasure of meeting Deanne at the Coastal Women's Forum Annual Dinner and Hat Social on June 8, 2017 from 5 – 8pm at the New Bern Golf and Country Club. It's free for members with all accounts paid, and $23 for guests.
For more details on how to participate in the Hat Social, or to learn more about what Coastal Women's Forum has to offer, visit CoastalWomensForum.com.
By Contributing Author, Penny Zibula, SixLegsWillTravel.com