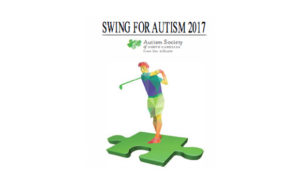 The Autism Society of North Carolina-Craven County Chapter will host its 4th Annual Swing for Autism Golf Tournament at the River Bend Country Club on Saturday, June 24 with a shotgun start at 9 A.M.  The event is a fundraiser to support and promote opportunities to enhance the lives of Craven County individuals within the autism spectrum and their families.
Greens fees range from $35 for RBCC members to $65 for guests and include a cart, warm up balls for the driving range, prizes for the top competitors, two hole-in-one contests, and lunch at the end of the round.  Lisa Benton from Keller Williams is sponsoring the $20,000 cash prize hole-in-one that will be a 50/50 split with ASNC-Craven County Chapter and Chevrolet of New Bern is sponsoring the 2017 Chevy Equinox prize on the second hole-in-one.  The tournament is a 4 person superball modified format and each player must have a verifiable handicap.
Sponsorships are available, and if you can't play, monetary donations are being accepted at the RBCC. To make a donation of products or services for the silent auction please contact Camille Hoffman at 252-672-1684. If you'd like to register to play, contact Kimberly Hoffman at 252-626-5359.All the funds from this tournament will be directed to support people in Craven County.
The Autism Society of North Carolina provides direct-care services tailored to the unique needs of individuals with autism which enables them to have healthy, safe, and fulfilling lives in their own communities.
ASNC also supports families through Autism Resource Specialists who are often the first people parents talk to after their child is diagnosed as autistic. ASNC helps connect families with resources, keeps their children safe, finds services, and resolves school issues while providing guidance on lifelong issues including employment, residential options, and planning for children's needs beyond parents' lives.
Outreach to our communities is another facet of ASNC.
Thanks to the efforts of the ASNC, the quality of care for individuals with autism has increased due to training programs offered by ASNC, advocating for the needs of the autism community with state policy-makers, and increasing public awareness of autism and helped NC have a lower average age of diagnosis than the U.S.
For more information about the golf tournament and the ASNC-Craven County Chapter email Kim Hoffman or call her at 252-626-5359.
Submitted by: Jane Maulucci, The Reactive Voice