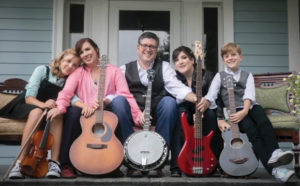 Be entertained with musicians, Strung Together, and local creative artists at Greater Good Gallery and Isaac Taylor Garden on Friday, June 9, 2017 from 5 – 8pm at 228 Craven St., New Bern.
Strung Together plays a variety of types of music. Band members include George, Dare, Catherine, Abigail and Mason Oliver. George Oliver explains, "The common thread for us is that they are all songs that we love. Folk, old-timey, Americana, spirituals, a bit of bluegrass and a dash of country…each of these songs tells a story, and they have each become part of our story as we have learned to play them together and put our own spin on each one." The band just recorded its first cd, "The Littlest Birds," which is available for purchase online. Visit StrungTogetherBand.com to find out more info.
Elisa Schulman will be doing a jewelry-making demonstration. Curtis Blake will reveal his new photo display. Anna Foulkes Braun will setup her adorable creations. Linda Boccia will be explaining the history of her found d'objets sculpture. Pamela Johnson will showcase her newest paintings. Kinsey Pilkington has new folk art with a contemporary twist.
Andrea Clemmons Thompson will be on hand with drums for the public to try playing. Thompson is promoting the upcoming "New Bern Drum Circle" free public event to be held at Union Point on Friday, June 16 from 6 – 8pm.
Inside the Isaac Taylor house, Lisa Bisbee Lentz and Carol Jones will be painting. Jon Derby will be capturing the crowd with his focal lens camera at Greater Good Gallery. Browse through the mock-up pages of "A Brief History of Artists in Eastern North Carolina".
If you are interested in participating, we offer a call to creative folk. All artists are welcome to setup a table in the Isaac Taylor Garden for ARTcrawl on June 9, 2017. Let Lisa know by sending an email or visit GreaterGoodGallery.com on the web.
Submitted by: Lisa Bisbee-Lentz, Artist Representative, Greater Good Gallery