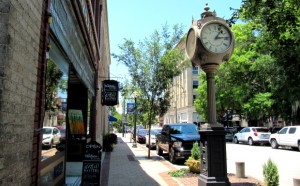 9th: ArtWalk throughout Downtown New Bern, 5:00pm – 8:00pm, presented by the Craven Arts Council at the Bank of the Arts. 252-638-2577.
9th: ARTcrawl with Live Music by Strung Together Band presented by the Greater Good Gallery, 5:00pm – 8:00pm at the Isaac Taylor House and Gardens, and numerous locations in Downtown New Bern.
9th: Art Walk "Into the Wild" Exhibit by Jean Grunewald, 5:00pm – 8:00pm at Fine Art at Baxters. Call 252-634-9002.
9th: Uncorked – A Wine Tasting, 5:00pm – 8:00pm at Nautical Wheelers of New Bern. Call 252-514-2553.
9th: Meet Artist Judith Cutler during ARTcrawl, 5:00pm – 8:00pm at Georgiana Bircher, Edward Jones Advisor's Office, 246 Craven St.
9th – 11th: Table Manners, Fri – Sat: 8:00pm; Sun: 3:00pm presented by Rivertowne Players at the Masonic Theatre.
10th: Tryon Palace Gardens Lecture Series, 10:00am at the North Carolina History Center. Call 252-639-3500.
10th: Flag Day Celebration, 11:00am – 12:00pm at the Gazebo, Union Point Park. Sponsored by the New Bern Elks Lodge #764. Call 252-638-8116.
10th: The Bears perform an acoustic concert, 7:00pm at the Trent River Coffee Company. Call 678-205-7309.
What are you doing this weekend?
Tell us what you think sending us an email. Visit New Bern Now's Facebook page or sign up for the latest updates by submitting your email address in the right margin on New Bern Now's website.
Wendy Card