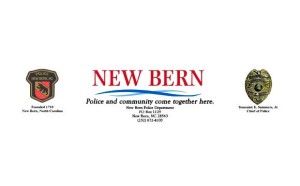 Tuesday, May 9, 2017 at 10 a.m.
New Bern Police Department
601 George Street
Please join the New Bern Police Department for our annual Law Enforcement Memorial Service, where we will honor and remember the following law enforcement officers who made the ultimate sacrifice in the line of duty:
Carl Mayo, New Bern Police Department, EOW 5/29/1960
Toby Taylor, Craven County Sheriff's Office, EOW 11/16/1963
Jeffrey Matheny, Craven County Sheriff's Office, EOW 10/21/2000
Donald Miller, New Bern Police Department, EOW 12/25/2001
Alexander Thalmann, New Bern Police Department, EOW 3/31/2014
Craven County Sheriff Jerry Monette and the sheriff's department will also participate in this ceremony.
As part of the memorial service, New Bern's newest bear sculpture will be unveiled. "Officer T Bear", with its accompanying citizen's car, represents a typical scene in traffic enforcement: a police officer directs a citizen's car to pause its course allowing pedestrians to cross the street safely. Look closely at Officer T Bear and you'll find the names of officers Mayo, Miller and Thalmann added to its uniform. The citizen car's license plate also features the word IMPACT, an important acronym within the New Bern Police Department. It speaks to our mission statement and key values of Integrity, Motivation, Professionalism, Accountability, Commitment and Trust.
After the memorial service, the public is encouraged to join a law enforcement motorcade to Lawson Creek Park, 1309 Country Club Road, where the new multipurpose athletic field will be officially dedicated as Thalmann Field at Lawson Creek Park. The scoreboard bearing New Bern Police Department Officer Alexander Thalmann's name will be unveiled as part of this special ceremony and a memorial plaque will be presented in his honor. The scoreboard was made possible by donations from police department staff, the community, and the Thalmann family. City officials will recognize other recent upgrades and amenities added to the park.
For those who only want to attend the Lawson Creek Park event, we anticipate this ceremony will begin at 11 a.m. A Nationally Accredited Agency
Prior to the memorial service, at approximately 9:30 a.m., a law enforcement motorcade will accompany the Miller family to Donald Miller Park, 100 Avenue A, to present a memorial plaque in honor of Detective Miller. Officer Carl Mayo will be honored during the ceremony at the police department. The public is welcome to attend all three events.
The New Bern Police Department is committed to partnering with the community to create a safe place to live, work and visit. Citizens are encouraged to become a "Partner in Policing," by reporting suspected illegal activity to the New Bern Police Department's TIPS line at 252-636-5034 or the Craven County Crime Stoppers line at 252-633-5141. For additional information, please contact Sergeant Benjamin L. Lewis at the New Bern Police Department at 252-672-4284.
Toussaint E. Summers, Jr., Chief of Police
Submitted by: Colleen Roberts, Public Information Officer, City of New Bern