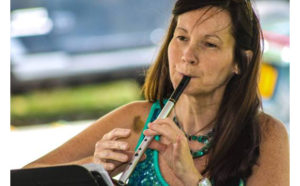 New Bern will host a concert of Irish music on Friday, May 12. Sean MacMahon on button accordion will be joined by his daughter Maryanne MacMahon Ford on tinwhistle, guitar, and bodhran, as well as by Simon Spalding on the fiddle and octave mandolin. The concert will feature tunes heard for the first time in decades.
Button-accordionist Sean MacMahon was born in Navan, County Meath, Ireland, in August 1926. He moved to this country in 1948, working, living, and performing in New York and New Jersey. Sean plays a rare version of the Irish accordion, the D/C# instrument favored by Joe Cooley, Sonny Brogan, and other pioneers of the instrument. Since retiring and moving to River Bend, Sean has been a mainstay of Irish traditional music in eastern North Carolina.
Maryanne MacMahon Ford is Sean's daughter who lives in Milford, Pennsylvania and performs with her own group, The Tara Minstrels. Maryanne sings and plays tinwhistle, guitar, and bodhran.
Simon Spalding grew up in San Francisco, taking up the fiddle in 1966. Simon started playing Irish music in his teens, and has performed all over North America, in Ireland, and in other European countries.
The program will include traditional Irish reels, jigs, hornpipes, marches, and waltzes, songs from Maryanne and Simon, guest performers, and unusual selections such as "The Tara Waltz", composed in the 1940's by Sean's brother Patsy MacMahon.
The concert will take place at Trent River Coffee Company, 208 Craven St., New Bern, on Friday, May 12. Tickets are $10, available at the door. The doors open at 6pm, and the show starts at 7pm. For reservations or more information, call 252-514-2030.
Submitted by: Simon Spalding