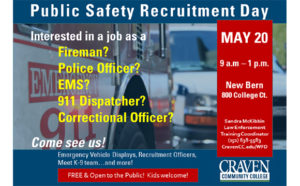 Craven Community College and public safety agencies are inviting the public to learn about public safety careers, jobs and training on Saturday, May 20, 9 a.m. – 1 p.m. at the New Bern campus.
Craven Community College (CCC) will host a Public Safety Awareness and Recruitment Day on Saturday, May 20, from 9 a.m. to 1 p.m., at the New Bern campus at 800 College Ct. The event is being held in recognition of the month of May's national public safety observations including Police Safety Month, Correctional Officers Week (May 7-13), National Police Week (May 14-20), Peace Officers Memorial Day (May 15) and EMS Week (May 21-27).
The purpose of the Public Safety Awareness & Recruitment Day is to provide education about public safety careers, available jobs and training. Public safety and emergency personnel, equipment and vehicles will be on display from the following organizations: Craven Community College Basic Law Enforcement Training and Workforce Development; Craven County Emergency Management; Craven County Sheriff's Office; New Bern Fire Department; New Bern Police Department; and North Carolina Department of Public Safety.
Attendees, including children, are welcome to participate in activities, observe K-9 demonstration, and explore police, fire and EMS vehicles. The Caution Food Truck Ahead will sell food and drinks.
The event is free and open to the public.
Contact Sandra McKibbin, CCC law enforcement training coordinator, at 252-638-5583.
Founded in 1965, Craven Community College (CCC) is part of the North Carolina Community College System. With campuses in New Bern and Havelock-Cherry Point, Craven serves about 3,200 curriculum students and more than 10,000 continuing education students each year. The college offers a wide range of associate degree and certificate programs, as well as college transfer courses, career and occupational offerings, partnerships with four-year universities, specialized workforce training options, developmental studies and basic skills classes. The Lifetime Learning Center and Adult Enrichment Program offer lifelong learning opportunities. Craven Early College High School programs are available on both campuses. CCC is also home to Public Radio East, one of the few community colleges nationally with this distinction. For more information about the college, visit CravenCC.edu.
Submitted by: Deborah Kania, Director of Communications, Craven Community College