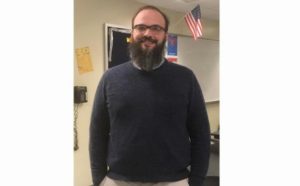 The Craven County Board of Education and Early College EAST spotlighted a teacher that has become an integral part of the Early College EAST family.
Mr. David Lee's desire to help students is evident by him continuously looking for new ways to make history more interesting for his students. He has diligently worked very hard to implement the flipped classroom, and we admire his determination to find a way to make it work for student success. This type of preparation shows his great consciousness of what material he wants to deliver, and his continual effort to make that content engaging for the students. This concern for students is shown both in school and outside of school. His general positive outlook and willingness to help when needed for field trips, student functions, and other outside activities are unparalleled. School functions flow more easily when there is a positive environment and he contributes greatly to that environment. In our lesson tuning meetings, he is dedicated, prepared, and helpful both in seeking out and providing feedback. His positivity and hope are inspiring. He has stepped up in many ways this year as both a staff member and within his classroom.
We are proud to spotlight Mr. David Lee as an outstanding member of Early College EAST High School.
Submitted by: Jennifer Wagner, Director of Public Relations, Craven County Schools