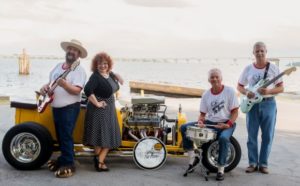 The Bears, New Bern's favorite oldies band, return to The Brown Pelican in downtown New Bern, Saturday evening, April 22.
The Bears have quickly become New Bern's favorite band for music of the 50's, 60's, and 70's, played with gusto in arrangements that nail the sound of the original recordings.  Combined with humor, trivia, schtick, and audience-interactive fun, a show by THE BEARS is like a time-travel adventure!
Who are The Bears?
– "Mama Bear": Janet Montero sings and plays bass.
– "Baby Bear". Steve Latimer sings and plays guitar and guitar-synth.
– "Yogi Bear": Pat Engeman sings and plays the drums.
– "California Bear": Simon Spalding plays bass, fiddle, and guitar.
The Brown Pelican is at 411 Broad Street in downtown New Bern.  The music begins at 8:00 p.m., continuing until 10:30.  There is no cover charge.  Call 252-631-5008 for more information.
To learn more about The Bears, check out the band's website, TheBears.band.  To book The Bears, contact Pat Engeman at 678-205-7309.
The Bears will take you on a musical journey through the Golden Era of Rock & Roll.  In the immortal words of the Go-Go-Gophers, "Whoopee, doopie, we have FUN!"
Submitted by: Simon Spalding