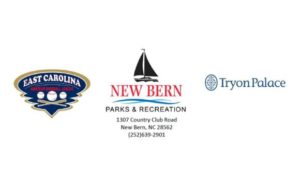 Opening Day Ceremony – April 9th at 1pm
The City of New Bern, in partnership with the East Carolina Amateur Baseball League (ECABL) and the Tryon Palace Department of African American Outreach, is proud to announce the return of baseball to historic Kafer Park. The opening day ceremony will take place at the park on George Street in downtown New Bern on Sunday, April 9th at 1pm. Games are scheduled for 2pm and 5pm.
"We're excited to bring this Sunday afternoon tradition back to Kafer Park," said Thurman Hardison, Director of Parks & Recreation for the city. "The park is undergoing a historic restoration intended to bring it back to its mid-twentieth century glory, and soon we'll fill the bleachers and dugouts with athletes, families, and fans. We're going to have a lot of fun here this summer."
Kafer Park is named for former city alderman Alfred Kafer. The ballfield is the former home of the New Bern Bears and New Bern Giants baseball teams. Baseball started at the park back in 1928 in a game featuring the New Bern Battery D Team against the New Bern Fire Department. Two years later, the Coastal Plain League was founded, and Kafer Park became the first park in North Carolina to have lights and night games. The Coastal Plain League consisted of teams from Kinston, Wilson, Snow Hill, Greenville, Roanoke Rapids and Goldsboro. In the 1930s and 40s, Kafer Park reportedly drew thousands of baseball fans each weekend. Admission was only .25 cents.
"This stadium is a place where the community can come together and enjoy baseball," said Mike Soares, Commissioner of the East Carolina Amateur Baseball League. "Kids can chase foul balls and cheer on the players. These games offer the community a chance to get out, have fun and enjoy America's favorite pastime."
The opening day ceremony will include honors for many of the ballplayers who played at Kafer Park including former Major League Baseball players Carl Long, Jr., Mule Shirley, Charlie "King Kong" Keller, and Bobby Perry. New Bern greats who will also be honored include David Holloway, Graham Stilley, Scoby Midgette, Bunky Stewart, Red Derda, Harry Soufas, William Guy, Billy Price, Billy Bevill, Booker Bryant, Charles Pickett, Billie Moore, Jr., Leslie Pelham, and of course the legendary Stanley White, along with many others.
The ECABL is a wood bat, hardball league for senior men who play in their respective age division. Those divisions include 30s, 40s, and 50+. The league is an affiliate of Men's Senior League Baseball (MSBL), a national organization of about 350 leagues.
Submitted by: Colleen Roberts, Public Information Officer, City of New Bern