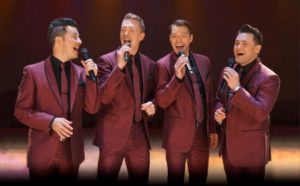 New Bern Historical Society Signs Powerhouse Group for May 21st
The New Bern Historical Society will bring Under the Streetlamp back to New Bern, by popular demand, on their nationwide tour, May 21, 2017.  Under the Streetlamp will perform their all new show, Rockin' Around the Clock with favorites from the Four Seasons, Beach Boys, Temptations, Beatles, and much more.  This dynamic foursome, a PBS favorite, was sold out in their last appearance here. You can expect them to deliver an electrifying evening of classic hits from the American Radio songbook, bringing their unique blend of tight harmonies and slick dance moves to your favorite Doo-Wop, Motown, and classic Rock 'n' Roll hits.
On Sunday, May 21st, the New Bern Convention Center will rock with the sounds of your favorites from the 50's, 60's and 70's. The show will start at 7pm and the Convention Center will be open at 5pm with seat tagging available.   Historical Society Executive Director Mickey Miller is excited to have such a nationally known group in New Bern.  "The performers are from the cast of Jersey Boys. The Historical Society is thrilled to bring that kind of talent back to New Bern. They gave us a wonderful show last time and were sold out. I encourage everyone to get their tickets early!  Consider gifts for Easter and Mother's Day."
General admission tickets are $38, plus NC sales tax, and $57 plus NC sales tax for premium seating. For active duty military/dependents/students (with current ID card), general admission is $33 plus NC sales tax. Sponsor tickets with front, center seating and pre-show champagne reception are also available.  Tickets are on sale now at www.NewBernHistorical.org/legends-in-concert/, and are available at the New Bern Historical Society office at 511 Broad Street.
You may have seen Under the Streetlamp recently on PBS. They are even more exciting in person. You won't want to miss it!  For more information call the New Bern Historical Society at 252-638-8558 or go to NewBernHistorical.org/Legends-in-Concert/. All proceeds from the concert go to support the Historical Society's ongoing educational programs, New Bern Battlefield Park, and Attmore-Oliver House. Media sponsors:  CTV10, Beach, Boogie and Blues, 107.9 WNCT, Public Radio East, and The Sun Journal.
The mission of the New Bern Historical Society is to celebrate and promote New Bern and its heritage through events and education.  Offices are located in the historic Attmore Oliver House at 511 Broad Street in New Bern. For more information, call 252-638-8558 or visit NewBernHistorical.org or Facebook.com/NewBernHistoricalSociety.
Submitted by: Kathy Morrison, New Bern Historical Society