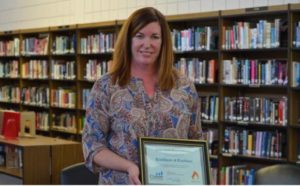 On February 22, 2017, The Craven County Board of Education and Havelock High School spotlighted a teacher who has been on staff since 2009, Ms. Barbara McCurdy. As her family transferred from one military assignment to another, this teacher has worked in several schools. She began at Westview High School in Arizona where she taught English and sponsored the school literary magazine and the Interact Club. Later at Jacksonville High School in Onslow County, she taught multiple levels of English and was involved in coordinating, aligning, and implementing instruction. She continued her career at La Contenta Middle School in Yucca Valley where she served as a member of the leadership team, and finally, she taught English and participated in field trips and fund raising events at Escondido High School in California.
Since Ms. McCurdy came to Havelock High School, she has been a leader in and out of the classroom. She currently serves as the Chairperson of the English Department, has served on the cabinet, and has collaborated in the development of professional learning community processes at our school. Under her leadership, the English 2 PLC has been innovative in their processes and their efforts have recently lead to higher proficiency on the English II EOC.
Ms. McCurdy is an excellent representative of military connected teachers in Craven County and understands the challenges that military students and families experience. She is able to multi-task, to think quickly, to work tirelessly, to strive for excellence, to uplift others, and to help those in need. She is a gentle person who treats all students and staff with dignity and respect and is skilled in multiple teaching strategies and processes. Her love for students is obvious and students are motivated to excel every day in her classes. She is an incredibly effective, beloved and memorable teacher at Havelock High School.
Havelock High School is proud to spotlight Ms. McCurdy, who represents what is the very best in all of us and is herself one of the very best representations of all that is good in education.
Submitted by: Jennifer Wagner, Director of Public Relations, Craven County Schools