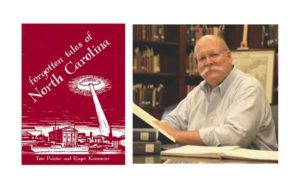 Strange & Fascinating Items Found In Old Newspapers & Genealogy Q &A
On Tuesday, March 14, 2017, at 6:30 p.m., the Craven County Genealogical Society will begin the evening with a cookie and punch reception where members and guests are welcome to discuss their research and learn more ways to find their ancestors.
At 7 p.m., the Craven County Genealogical Society is pleased to host Mr. Roger Kammerer, A Renaissance Gentleman, of Greenville, North Carolina. He will talk about the strange and fascinating items he has discovered in old newspapers over his many years of historical research. He will also take questions afterwards about genealogical research as part of the new program feature presented by the Society.
Roger is a talented artist with works in both private and public collections. In addition, he is a noted author of several published family histories, historical volumes, as well as numerous contributions to historical and genealogical journals. He is the co-author of "Forgotten Tales of North Carolina" written with Mr. Tom Painter.  He is also one of the founding members and president of the Pitt County Family History Researchers.
In addition, Roger has served as the editor of the award winning, "Pitt County Genealogical Quarterly" for over twenty years. He has also served on several boards including the Pitt County Historical Society and the Eastern Carolina Village and Farm Museum, 1840-1940). He has a wealth of knowledge and expertise about genealogical research in general and Eastern North Carolina in particular having been an associate of the noted historian Mr. Tucker Reed Littleton of Swansboro, North Carolina. He also does private genealogical consulting and may be contacted via email.
The Society's monthly meetings are held the second Tuesday evening at the New Bern LDS Church located at 1207 Forest Drive off Trent Road. Please enter through the front door. The monthly meetings are free and open to the public and membership is encouraged. The Society has a vibrant and diverse membership representing not only Craven County and North Carolina, but also many other states as well.
For more information, please visit our website at CravenGenealogy.org or our Facebook page or contact President Nancy Perdue or 252-638-3291.
You are also welcome to visit the New Bern LDS History Center which is free and open to the public on Tuesdays (1 p.m. to 4 p.m. and 6 p.m. to 9 p.m.), Wednesdays (6 p.m. to 9 p.m.), and Thursdays (1 p.m. to 4 p.m.). It is staffed by volunteer researchers who are happy to assist you in learning how to find your ancestors. The History Center provides free on-site access to some of the most popular online genealogy research databases. More info is available at Tinyurl.com/LDSHistoryCenters.
Submitted by: David French, The Family History Society of Eastern North Carolina