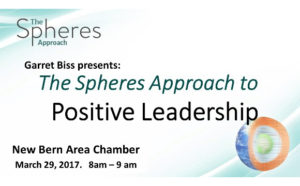 If you are a leader (or plan to be someday) this presentation is a must!
Learn how leaders can apply "The Spheres Approach" at work to improve work climate, co-worker relations, employee satisfaction, and the quality of the goods or services your organization produces.
"The Spheres Approach" is a concept I introduced in my award-winning book, The Spheres Approach to Happiness and Fulfillment. Originally taught as an approach to our personal lives, this concept is easily applied to our work life as leaders in an organization. The same tools we use to deal with stress, overcome challenges and cultivate greater happiness and joy, can be applied in the workplace for equally remarkable gains. This presentation, The Spheres Approach to Positive Leadership, will teach you how to apply these tools to cultivate a more positive and productive workplace.
By applying "The Spheres Approach" as a leader, you can:
– Protect your group from outside distractions and negativity;
– Improve the working relationships of those on your team;
– Increase the individual contribution and creative involvement of everyone;
– Effectively deal with internal problems or conflicts that arise;
– Increase the performance and quality of work produced;
– Create a more positive, fun, and rewarding place to work.
Whether you are currently a leader or working to become one, this presentation is a must. Even if you don't have aspirations of leading others, this presentation will still provide valuable insight that will help you improve your work experience and fulfillment at the office.
Join Garret for this one-hour presentation on Wednesday, March 29th at the New Bern Area Chamber of Commerce. You will leave empowered to take your team or organization to the next level. Become the leader that you want to be and that everyone wants to work for.
You don't have to be familiar with Garret's book The Spheres Approach to Happiness and Fulfillment to benefit greatly from this workshop. If you would like to purchase a copy at a discounted price, send an email once you've registered.
Testimonials from prior events…
"Excellent Message!" "I always learn a critical insight from [Garret's] presentations." "All around marvelous workshop!" "Very positive, welcoming to all different people."
About the presenter:
New Bern resident and retired Marine Corps pilot, Garret Biss, is a professional speaker, trainer and philanthropy activist. Before founding the nonprofit, One Million Goal, Inc., Biss served for more than 16 years as a US Marine. Rising through the ranks from Private to Captain, Biss spent 15 years serving in leadership positions at every level from three-man teams to his peak as a Division Officer responsible for the lives, wellbeing, and performance of 93 Marines. Since retiring from the Marines, he has authored two award-winning books, Charity The Gifts of Giving and The Spheres Approach to Happiness and Fulfillment. As a certified personal and professional development trainer, Biss has been personally mentored by "America's #1 Success Coach," Jack Canfield, and the real estate guru and founder of Keller Williams Realty, Gary Keller.
For more information about the presenter, visit GarretBiss.com.
Submitted by: Garret Biss