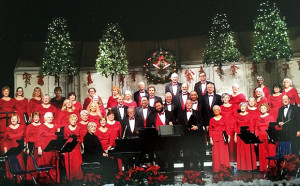 A Weekend of Singing: Sit in on Craven Community Chorus rehearsals in preparation for its annual spring concert "Requiem for the Living" by Dan Forrest, with Dr. Robert A. Harris as Clinician. Sessions will be on Thursday, March 30 at 6:30pm and Friday, March 31 at 6:30pm. Registration will be $10 and the Requiem score $12.
Saturday in Song: The workshop with  Dr. Robert A. Harris will offer eastern North Carolina singers and conductors a chance to learn and rehearse iconic choral selections, choral and vocal techniques along with Conducting Master Class activities. The Saturday session will be 9:30am – 4:30pm. Registration will be $30 and will include lunch.
The Spring Choral Workshop is being sponsored by Craven Community Chorus, Carolina Coast Choral Arts and First Presbyterian Church. The sessions will be held at First Presbyterian Church Session House, 400 New Street, New Bern.
For more information or to register, contact: Registrar, Cheryl Kite at 252-717-5667.
Submitted by: Marilyn Davis