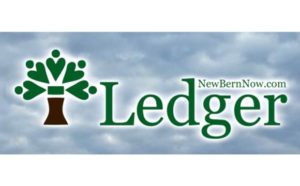 We're working on New Bern Now's Spring/Summer Quarterly Ledger Publication (April – June 2017). If you haven't already sent us your free announcements and events, send them to us by March 18th. If you're a new business, let us know. We will do our best to include the information into the next Edition.
The Ledger Magazine is a handy reference for the greater New Bern area with an extensive calendar of events for local residents and visitors alike. If you haven't seen our current edition, it's available at local businesses and non-profits throughout New Bern to include Fairfield Harbour, River Bend, Carolina Colours, Downtown, and beyond! It's also available online here.
Special thanks to everyone who has supported NewBernNow.com and Ledger Magazine. Especially to our advertisers as we couldn't afford to publish the magazine without your support.
You can help us make a difference by investing in our community. Become an advertiser and helping us cover the cost of printing. This is a great way to reach thousands of people looking for local information. The advertising rates start at $75 per issue (3 months) and include the online and hardcopy versions along with your website or Facebook page being published as a "Must Visit" link on NBN's homepage. Contact us today as the space is limited – first come, first serve!
If your business or non-profit isn't listed and you don't want to pay for an advertisement, you can make sure it's listed for a small fee of $13 per month payable every 6 months or annually that includes a link back to your website (payable every 6 months at $78 or annually for $150).
This is a win-win-win situation for your organization, our community, and New Bern Now!
Here's the benefits you'll receive:
– Your business listing in the Ledger will re-direct online readers to your website.
– For those reading the printed edition, your listing will be highlighted vs. others, therefore, setting you apart from your competitors.
– Your business will also be listed on our Sponsor's page on NBN's website.
– When people see NBN's logo next to your business, they will know that you support a positive brand in our community.
Our audience is comprised of residents and visitors to the Greater New Bern area who are sharing important information and looking for positive happenings in our community.
Please let us know if you're interested in supporting our efforts by calling 252-638-6858 or sending an email.
We look forward to helping spread the word about the latest happenings throughout the greater New Bern area!
Visit New Bern Now's Facebook page or sign up for the latest updates by submitting your email address in the right margin on New Bern Now's website.
Thank you,
Wendy Card