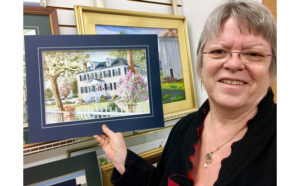 April 7 & 8, 2017 marks the 50th Anniversary of New Bern's Spring Historic Homes & Gardens Tour. The annual event is presented by the New Bern Historical Society and the New Bern Preservation Foundation, with a special New Bern Spider Lily sponsorship by the Neuse River Region Association of REALTORS®.
Ticket holders will be welcomed into private homes, gardens, and churches in three historic areas:  the Downtown district, and the nearby Ghent and DeGraffenried neighborhoods. The Ghent Historic District is significant in New Bern's history as its second suburban residential development (and its only streetcar suburb).  Although it was platted in 1906, most of its development dates between 1912 through 1942. The DeGraffenried Park area is located next to Ghent.  It was opened in 1926 and was the last important New Bern development of the 20th century.  Its opening was touted as one of the finest subdivisions in this part of the state.
This self-guided tour provides an ideal opportunity to explore homes and landmarks that otherwise may not be available to the public. As an added attraction, Tryon Palace also opens its gardens free to the public and hosts its Heritage Plant Sale during this two-day event.
This year's featured home is the Palmer-Tisdale House, a 250-year old home with a notable history, including being the home of William Tisdale, the silversmith who engraved the Great Seal of the State of North Carolina in 1778.
Another interesting home included on this year's tour is the Dr. William and Clara Mann House. Built in 1920 by Dr. Mann, he was one of several African-American physicians who built homes along a section of George Street. His son, Robert "Bob" Mann played football for the University of Michigan and took the team to the Rose Bowl. He was then drafted by the Detroit Lions where he played as the first black NFL player for Detroit, and at the end of the 1949 season, the Packers signed Mann as the first African American to play in Green Bay.
To help celebrate the 50th Anniversary, sixties-themed events and memorabilia will be on display at The City Laundry which, along with serving lunch, will have live entertainment, including The Bears and The Down East Dulcimers.
As with previous tours, students from the Epiphany School of Global Studies will volunteer as docents and this year, in recognition of their efforts, Gina's Pizza has generously offered to provide them with pizzas for lunch on Saturday.
Event hours are 10:00 a.m. to 4:00 p.m. both days.
Tickets, good for both days, are $18 in advance, $22 same day, and $14 for students, active duty military and dependents with ID. There is also a special rate of $15 each for groups with advance purchase of 10 or more tickets at the same time.
Tickets may be purchased at Downtown New Bern locations: New Bern Visitors' Center, Historical Society office, Preservation Foundation office, Carolina Creations, Mitchell Hardware, Bank of the Arts, Savi's Wine & Cheese, and the New Bern Convention Center. Tickets will also be available at: ASAP Camera in Greenville, Ann Lynn's, Village Butcher, and three Harris Teeter locations (Glenburnie Road, Carolina Colours, and Morehead City).
For more information or to purchase tickets online, visit NewBernHistorical.org or NewBernPF.org.
Submitted by: Nancy Hill, New Bern Preservation Foundation