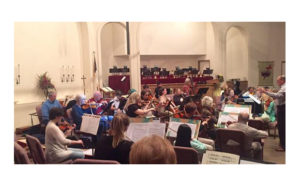 Join the New Bern Civic Strings in Concert on March 19th at 3:00pm at Centenary United Methodist Church, 309 New Street, New Bern.
Phillip Evancho will be conducting. Featuring Rachel Harmatuk Pino and Rachel Hart, violin soloists.
With music by Vivaldi, Mussorgsky, Beethoven, as well as Disney Classics and a medley from the Harry Potter films.
This is a free Concert open to the public and all are welcome to attend.
For more information, call Bryna Coonin at 252-626-9704 or visit the New Bern Civic Strings website.
Submitted by: Bryna Coonin