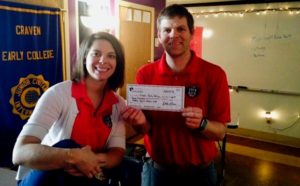 Partners In Education recently awarded Matthew Ipock and Amanda Smith, teachers at Craven Early College, $500 for their 2016-17 Spring Cycle PIE Grant titled, "The Worth of Water: From Irrigation to Vegetation." This grant will fund the installation of a rain-fed irrigation system to the school's three raised garden beds. Students will measure the volume of water in the rain barrel and keep a tally to determine if plants are receiving adequate water.
This will assist the students with their class project for their Earth and Environmental Science class.
For more information on how you can contribute to the PIE Grant program, contact Darlene Brown at 252-514-6321.
Submitted by: Darlene J. Brown, Executive Director, Partners In Education