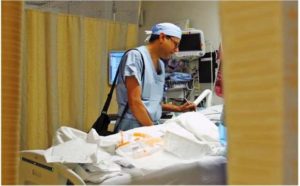 Friday, March 17th at 2:30 pm
Craven Community College's Orringer Auditorium
800 College Court, New Bern
Join us for a free screening of the PBS Frontline film featuring Dr. Atul Gawande as he explores the meaning of Being Mortal. A facilitated discussion will follow in which participants will explore the concepts of quality of life versus quantity of life and how to live fully through the process of dying. This promises to be a lively and engaging conversation.
We welcome and encourage people from all walks of life to come have their voices represented. If you are 18 years of age or older, we hope you will attend.
This screening is made available by the Hospice Foundation of America and is underwritten by the John and Wauna Harman Foundation.
For more information, call Mary Lou Infinito at 252-382-3945.
Submitted by: Mary Lou Infinito, Community Outreach Coordinator, Advance Directives, Health Access