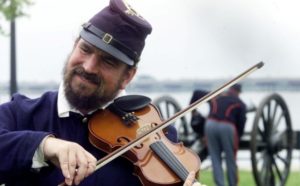 Simon Spalding returns to Trent River Coffee Company on Friday, March 10, presenting "St. Patrick & The Battle of New Bern". The program combines songs and tunes from Ireland with music of the Civil War, commemorating both St. Patrick's Day and the 155th Anniversary of the Battle of New Bern.
The Irish part of the program will include reel, jigs, and hornpipes on the fiddle, along with favorite Irish nautical ballads and sing-along sea chanteys.  It's just the music to get you in the mood for St. Patrick's Day!
The Civil War component of the concert will include patriotic songs, dance tunes, and satirical songs by Union and Confederate soldiers and sailors.  Simon will play fiddle and an original mid-19th-century fretless banjo, recreating the sounds of a century and a half ago.
Just a few days before the Battle of New Bern was fought on March 14, 1862, another battle was raging – a two-day naval battle in Hampton Roads, Virginia which pitted the Confederate ironclad "Virginia" against the Union ironclad "Monitor", as well as the Union vessels "Cumberland", "Congress", and "Minnesota".  The program will include a song about this battle, which took place just a few days before the Battle of New Bern.
Trent River Coffee Company is at 208 Craven Street in New Bern.  Doors open at 6:00, and the music begins at 7:00pm.  Tickets are $10, available at the door.  Admission is free for those under age 18.  Call 252-514-2030 for more information. For more on the artist, check out MusicalHistorian.com .
Submitted by: Simon Spalding