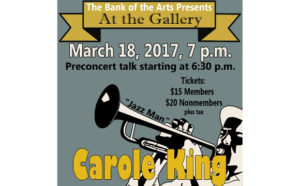 March 18th at 7pm
Craven Arts Council and Gallery is proud to present the music of Carole King, performed by Heather Pierson, Sean Nadeau & Davy Sturtevant on  March 18th, at Bank of the Arts. Considered the most successful female songwriter of the second half of the 20th century, King also had an impressive solo career as a pop  musician. The concert starts at 7pm, with a preconcert lecture on the composer's life at 6:30pm at the Bank of the Arts, 317 Middle St.
Carole King was a proficient pianist by the age of four, and a prolific songwriter by her early teens.  Her first success arrived in 1960, when the Shirelles recorded "Will You Love Me Tomorrow?"  This began a seven-year string of chart-toppers, including "Take Good Care Of My Baby" (Bobby Vee), "The Loco-Motion" (Little Eva), and "(You Make Me Feel Like) a Natural Woman" (Aretha Franklin). In 1970, King released her first solo album, Writer.  She followed that in 1971 with Tapestry, which included the songs "You've Got a Friend (also recorded by James Taylor), "It's Too Late," "I Feel the Earth Move," "So Far Away" and her renditions of "Will You Love Me Tomorrow?" and "(You Make Me Feel Like) A Natural Woman."  King won four Grammy Awards for Tapestry, the sales of which have been estimated at over 15 million copies worldwide.
Heather Pierson (lead vocals, piano) is an award-winning singer/songwriter and performer.  With eight previous solo recordings, Heather's wise-beyond-her-years songwriting, angelic voice and world-class chops have catapulted her into the spotlight. Davy Sturtevant (cornet, dobro, fiddle, mandolin, harmony vocals) is a veteran touring artist, songwriter, and performer.  Armed with a gorgeous tenor voice, Davy is at once a witty, thoughtful and engaging musical presence. Shawn Nadeau (bass, harmony vocals) brings a rock solid thump and nearly two decades of performing experience to the trio, informed by a wide spectrum of unique rhythmic and melodic sensibilities ranging from rockabilly to reggae to jazz.
Tickets are $15 for members and $20 for nonmembers, available at the Bank of the Arts, over the phone at 252-638-2577 or online at CravenArts.org.
For more information please contact Jonathan Burger, Marketing and Gallery Director, Craven Arts Council & Gallery, Inc. at the Bank of the Arts
Submitted by: Jonathan Burger