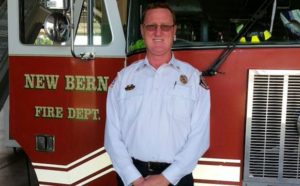 Chief Bobby Boyd at New Bern Historical Society Lunch & Learn March 8th
From rivalries to a single unit, from Fred the Firehorse to modern equipment, from pre-Civil War inception to post 9-11 changes.  New Bern Fire Chief Bobby Boyd will discuss the evolution of the New Bern Fire Department, the oldest chartered fire department in the state.  Join the Chief and the New Bern Historical Society for Lunch & Learn on Wednesday, March 8 at 11:30am at The Chelsea for an interesting look at the Fire Department, its history and its current status.
Fire-Rescue Chief Robert Boyd's career with New Bern Fire-Rescue is in its 31st year.  He joined the Department in 1986 as a volunteer firefighter. Following in his father's footsteps, he joined the career forces in 1991. He was promoted to Captain in 1994, Battalion Chief in 2001, Deputy Chief of Operations in 2003 and Fire-Rescue Chief in 2015.  His own outstanding history provides a great vantage point from which to consider the department's history.
Lunch & Learn starts at 11:30 a.m. at the Chelsea Restaurant, 335 Middle Street, New Bern. The cost is $16 for Historical Society members and $18 for non-members; lunch is included. Advance reservations must be made in by calling the New Bern Historical Society at 252-638-8558, or can be ordered at NewBernHistorical.org/tickets. Lunch choices are Pork Tenderloin with blueberry lemon ginger sauce, garlic mashed potatoes and vegetable medley. Baked Salmon with champagne dill sauce, rice pilaf and vegetable medley.
The mission of the New Bern Historical Society is to celebrate and promote New Bern and its heritage through events and education.  Offices are located in the historic Attmore Oliver House at 511 Broad Street in New Bern.  For more information, call 252-638-8558 or go NewBernHistorical.org or Facebook.com/NewBernHistoricalSociety.
Submitted by: Kathy Morrison, New Bern Historical Society