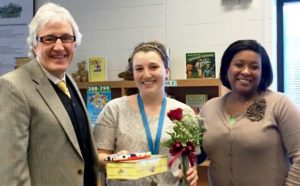 Edward Jones Financial Advisor, Mike Bass, partnered with Craven County Partners In Education to award a $100 gift card, flowers, and a box of chocolates (to celebrate Valentine's Day!) to Katlyn Joyner, an Exceptional Children's teacher at Oaks Road Elementary. Mr. Bass explained that Ms. Joyner goes beyond the requirements of her job description. She works to build the confidence of her students and relationships with her students and their families, and is truly a treasure among those in the education field. Ms. Joyner said this accolade would not be possible without the support of her team members and she looks forward to spending the $100 gift card for materials in her classroom. Also, she promised to share her chocolates!
The Edward Jones Teacher Recognition Award demonstrates the company's commitment to positively changing the lives of students and families in our community.  Pictured are: Mike Bass, Financial Advisor, Edward Jones with Mrs. Joyner and her principal, Dr. Eleanor Patrick. Congratulations, Ms. Joyner!
If you would like to learn how your organization can make a difference to a Craven County Schools teacher in the classroom, please contact Darlene Brown, Partners In Education, at 252-514-6321.
Submitted by: Darlene Brown, Craven County Partners In Education