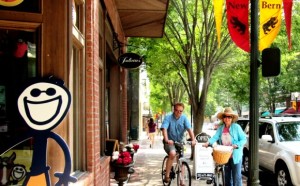 With the weather forecast into the 70s this weekend, you'll find all sorts of things to do! Here's a list of the latest events to help you decide what to do …
1st – 28th: Seventh Annual Food Drive to benefit the Salvation Army presented by the Tryon Civitan Club in conjunction with the UPS Store. Call 252-637-7500.
17th – 19th: Gem of the Ocean, Fri – Sat: 7:30pm; Sun: 2:00pm at the New Bern Civic Theatre. Call 252-633-0567.
17th – 19th: The Crucible, Fri – Sat: 8:00pm; Sun: 3:00pm at the Masonic Theatre. presented by Rivertowne Players. Call 252-637-2662.
18th: 5th Annual Flapjack Fundraiser Breakfast, 7:30am – 10:00am at the River Bend Golf & Country Club. Presented by the Tryon Civitan Club. Call 252-637-7500.
18th: Oaks Road Friends and Neighbors Litter Pick Up, 8:00am – 10:30am. New Bern Public Works supplies Safety Vests – pick up tools and gloves. Call 631-258-1254.
18th: Shakespeare Competition, 10:00am in Orringer Auditorium at Craven Community College.
18th: Free Horticultural Workshop Program, 10:30am – 11:30am at Craven Ag Building, 300 Industrial Dr. Call 252-633-1477.
18th: New Bern Heart Ball – A Celebration With True Heart, 6:00pm at the New Bern Riverfront Convention Center. Call 252-559-0026.
18th: At the Gallery: Marilyn and Alan Bergman performed by Andrea Owens, Judy Harrison, and Phil Owens, 7:00pm presented by the Craven Arts Council and Gallery at the Bank of the Arts. Call 252-638-2577.
19th: Lunch and Learn: Asa Spelman, 12:00pm at the North Carolina History Center. Call 252-639-3500.
19th: Festive Family Concert, 3:00pm, presented by the Carolina Chamber Music Festival at First Presbyterian Church. Call 252-626-5419.
Listen to our latest "Living in New Bern and Beyond" Podcast episode for details about this weekend's events:

If you don't have time to listen to the entire episode, click here to see the show notes and listen to parts of the episode.
What are you doing this weekend?
Tell us what you think sending us an email. Visit New Bern Now's Facebook page or sign up for the latest updates by submitting your email address in the right margin on New Bern Now's website.
Wendy Card