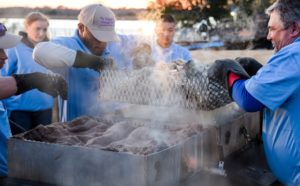 WinterFeast: Oysters, Brews, and Comfort Foods returns to the North Carolina History Center Friday, Jan. 27, from 5:30 – 8:30pm for a night of oysters, brews and comfort foods to benefit the nonprofit Tryon Palace Foundation.
Attendees are invited to enjoy North Carolina oysters, chowder, shrimp and grits, barbecue, jambalaya and other foods prepared by local chefs, as well as a cash bar full of craft beers and wines. Participating restaurants include the Chelsea, Moore's Olde Tyme Barbecue, 247 Craven, Mel and Vel Catering, the Flame, MJ's Raw Bar and Grille, Christoph's On the Water, and A Pinch of Love.
WinterFeast is an indoor-outdoor event held from 5:30-8:30 p.m. at the North Carolina History Center (529 South Front St., New Bern, NC), located on historic New Bern's picturesque Trent River. The outdoor tent will be heated and oyster knives will be available for purchase. WinterFeast also includes a cash bar, DJ and cornhole.
Tickets are $45 plus tax and all proceeds benefit the Tryon Palace Foundation's efforts to support programming at North Carolina's first state capitol. Tickets are available at the North Carolina History Center, located at 529 South Front St., New Bern, NC, by phone at 252-639-3524 and online at Tryonpalace.org/winterfeast.
Bojangles' is a Pearl Sponsor of the 2017 WinterFeast fundraising event. The Tryon Palace Foundation would also like to thank the following businesses and individuals for their sponsorship: Alphagraphics, Carolina East Medical Center, Christoph's on the Water, Coastal Carolina Health Care, P.A., County Compass, The Flame Catering and Banquet Center, Galley Stores and Marina, J. M. Hodges, Jr., Mr. and Mrs. Jim Foscue, R.A. Jeffreys, and Robinson and Stith Insurance.
Upcoming events at Tryon Palace include:
February 4: Tryon Palace Free Day
February 7: Behind the Scenes Tour: Costume Shop
February 19: Lunch and Learn: Asa Spelman 
February 28: Behind the Scenes Tour: Costume Shop
Submitted by: Craig Ramey, Director of Public Affairs, Tryon Palace