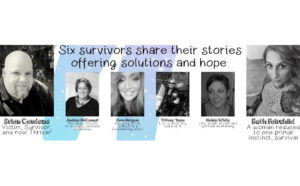 Six survivors come together to present their stories of healing from traumatic life events, offering solutions and hope during Chasing Immortality, a Survivor Knights event Saturday, January 28, 3PM at New Bern Civic Theatre, 414 Pollock Street in New Bern. An After Party catered by The Tiny Tornado food truck will be held at 5:30pm at Trent River Coffee Co., 208 Craven Street, New Bern. Event ticket exchanged for entrance.
Tickets are $15 (+ tax) in advance and $20 (+ tax) at the door and can be purchased online at the NewBernCivicTheatre.org  or at their box office at 412 Pollock Street, T-F. from 10am – 4pm. For more information: Facebook @Survivor Knights or Brian Cardoza by email or call 252-675-2045. Proceeds will benefit Broken Knee Club (BKC), a non-profit organization created to provide a safe haven for all to comfortably speak out about their experience of childhood and adult sexual abuse.
"Your darkest moments may be the light for another," explains artist, speaker, author and Broken Knee Club founder, Brian Cardoza, when asked about creating Chasing Immortality. The event will give voice to unspeakable topics, offer hope, and provide solutions to what seem to be insurmountable experiences. "Our desire is that our words will ignite hope in a listener who has been victimized as we share lessons learned that only survivors know.  Communities make stronger survivors, survivors make stronger communities".
Brian Cardoza will present with Beth Fairchild, outspoken metastic cancer patient; Dara Morgan, Stardust Gallery owner; Andrea McConnel, Craven County real property appraiser; Elainia White, yoga instructor,  and Tiffany Trese, intake coordinator with Wash Away Unemployment.  Each will share their unique story of survival from illness, imprisonment, escaping a cult, abortion, domestic abuse, and sexual abuse.  This emotional yet uplifting gathering brings to the forefront that even those who have suffered tragedy can find hope through faith, action, and art.
Brian Cardoza's newly released book The Unexpected Victim recounts his journey from victim to survivor to thriver and how it was possible because of art, sports, mentors/supporters, and one night in jail.  His story of abuse has been featured in a number of national and international projects including several documentaries and as a certified OVC TTAC Consultant, and RAINN (Rape, Abuse & Incest National Network) Speaker, he has presented at a multitude of events working to eradicate abuse.
About Broken Knee Club
Broken Knee Club (BKC) is a non-profit created to provide a safe haven for all sexes to comfortably speak out about their experience of childhood and adult sexual assault.  BKC teaches these young survivors that we all walk with pain and that while we acknowledge it, we can choose to move forward away from that painful portion of our lives and on to a joyful future.
The BKC initiative Survivor Knights champions for survivors through creative expression. The events were created to give survivors an outlet for their creativity, a connection to community, and a forum for conversation about difficult subjects.
Submitted by: Heather Noto, Brinks Strategy