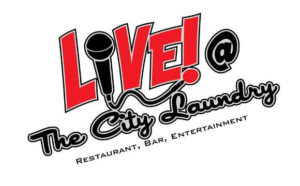 February 1st – "Texas Hold Em" night with Austin at 7pm. A fun way to meet new friends and have a good time! This is a "Free roll" tournament.
February 2nd – Game Night at 6pm. Bring your friends and check out our selection of board games. The City Laundry offers the perfect atmosphere for social gatherings and the kitchen at Live is cooking up some great compliments for an evening of fun.
February 3rd – James Ford at 7pm with $5 cover. Local favorite James Ford offers a unique, fresh and down right groovy approach to your favorite tunes. A proficient blues guitar player and a vocal joy.
February 4th – Improv Comedy Night at 8pm with $7 cover. We invite you to come and explore this one of a kind, audience interactive experience. Ouiser & the Innovation Station performs scenes mixed with musically improvised songs. Keyboardist, Molly Peacock accompanies improvisers Brian Thacker and Bradie Wagers as they take on five movie suggestions from the audience, setting up hilarious scenes that you will never see in the movies.
Third Date is an improvisational theatre group directed by Dan Sipp. They perform regularly at Common Ground Theatre in Durham, as well as other Triangle venues.
The cast consists of Dan Sipp, Nancy Pekar, Jenny Spencer and J Chachula.
February 9th – Vintage Thursday with Alisa Mike, 6:30pm. Popular local singer Alisa Mike serenades us with jazz standards from the Great American Songbook.
February 10th – Casa Blanca Jazz at 8pm with $7 cover. Jazz Classics, Bossa Nova and Middle Eastern. Tom Spellman is Casablanca's guitarist, playing both nylon-stringed classical guitar and steel string guitar. Glenn Druhot plays drum set, djembe, bongos and other percussion instruments. Simon Spalding plays violin, guitar and oud, the fretless lute of the Orient.
February 11th – Valentine's Extravaganza at 9pm with $7 cover featuring Matt Phillips and Barefoot Monty GEM Productions proudly presents the heavily anticipated return of NC singer songwriter Matt Phillips. New Bern's own Bearfoot Monty will kick off this evening with a modern take on blues-rock. Carrborro's Matt Phillips will close out the show with his unique take on contemporary folk, steeped in R&B and blues.
February 14th – Valentines Special, 6pm – 10pm. Classic movie romance theme! Sweet music with our own favorites Alisa Mike and John Van Dyke.
February 16th – Gabrielle Christie's Open Mic at 6pm. Local musicians, spoken word artists, and singers take the mic. Singer and guitarist, Gabrielle Christie brings grace and charm to the event.
February 17th – Cooking and Tasting Classes at 6pm! In-house caterer, Chef Vincent Farro, will be hosting a cooking and tasting demonstration. He will demonstrate how to cook a three course meal and the guests will get to eat each course. There will be wine paired with each course. Tickets $35 per person.
February 17th – Latin Night at 8pm with $5 cover. Salsa, bachata, cha-cha! We'll be offering Latin specials all night from our kitchen and bar. Brush up your Latin dance skills with local instructors from Rivertowne Ballroom.
February 18th – The Vagina Monolgues at 8pm. Directors Judy Long and Lori Favre, have assembled an all star local cast to present this worldwide pop culture phenomenon. Based on interviews with over 200 women about their memories and experiences of sexuality, The Vagina Monologues gives voice to women's deepest fantasies and fears. The show is Rated R for adult language. We are taking reservations for dinner seating. Tickets cost $20.
February 23rd – Vintage Thursday with Alisa Mike at 6:30pm.
February 24th – Mardi Gras Dixieland at 7pm. Monthly jazz series featuring some of the coolest cats around!  This month we'll be featuring the sounds of Dixieland along with some great Mardi Gras specials from the Kitchen at Live! There's no cover if you can swing with us! Hosted by John Van Dyke. Tickets cost $10.
For more information, call 252-876-7007 or visit The City Laundry at 901B Pollock St. in New Bern.
Submitted by: John Van Dyke, Booking and Promoting, The City Laundry