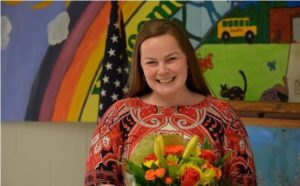 On January 18, 2017 the Craven County Board of Education and J.T. Barber Elementary spotlighted Ms. Brittany Lahti, a teacher who shares and reinforces the belief, mission and vision of the school and the district daily. Ms. Lahti sets goals for her students and herself, then she keeps a laser-focus and unwavering dedication on reaching them.  She is an inspiration to all and is truly a high performing teacher who is well-respected by students, colleagues, parents and the community!
This dedicated shining-star, is a true teacher-leader at J.T. Barber! She has led staff development sessions, served as grade chair, and serves as a cabinet member. Her work ethic and dedication to her students is like a beacon for all to follow. She is an expert at interpreting data to pinpoint specific needs for each student and then she skillfully differentiates her instruction to ensure each and every child in her class reaches his or her highest potential. She does this seamlessly and with ease, while sharing with others how to accomplish effective differentiation. Our award-winning teacher is also a leader in the use the Learning Focused Model. She helps her team plan lessons that include all of the high-impact strategies while teaching on grade level material. Her leadership in developing these lessons consistently includes strategies and practices that make the curriculum rigorous, relevant, and engaging.
While Ms. Lahti is an expert instructor and teacher-leader, there is an equally extraordinary loving and caring side to her. She meets her students at the door each morning with a smile and a positive comment. When there is a child struggling, she will go above and beyond to help get the child back on track. Our Spotlight Teacher truly loves her students and they love her too. She shows them unequivocal respect, guidance and understanding. The harmonious environment found in this classroom is undeniable and impressive! This classroom is truthfully filled with high expectation, high growth, the best instructional practices found anywhere, and an unmistakable love for children. Congratulations to Ms. Brittany Lahti!
Submitted by: Jennifer Wagner, Director of Public Relations, Craven County Schools