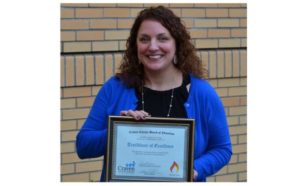 On January 4, 2017, the Craven County Board of Education and Grover C. Fields Middle spotlighted a teacher for the awesome work she is doing within the Math/ Science department and throughout the school community. Mrs. Lori Sugg joined the Grover C. Fields Middle School in 2013. She is employed as a 6th Grade math/science teacher.  Since arriving at Grover C. Fields Middle School, the 6th grade math department has been the highest achieving department in the school. She was the missing piece to an already great math department. Her dedication, kindness, and nurturing personality are what capture her students. If anyone were to step into her classroom, they would find lots of interactive and facilitative instruction taking place. There are smiles on every student's face because she makes learning challenging but amusing for the students.
Not only is Mrs. Sugg a leader in the classroom but she is also a leader in the school community. She is the sponsor for the Relay for Life club and she has recently decided to lead a group of students who want to form a club entitled "The Bully Busters." Mrs. Sugg is a bright star everywhere she goes. The love and compassion that she holds for her students and colleagues is immeasurable.
Mrs. Sugg's favorite animal is an "owl." An owl has broad wings with large surface areas that help them float and reduce noise caused by turbulence. Mrs. Sugg has silently stretched her arms out to many children that may live in a turbulent situation by making her classroom a warm, nurturing and safe place to learn. Congratulations Mrs. Sugg!
Submitted by: Jennifer Wagner, Director of Public Relations, Craven County Schools