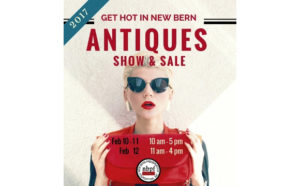 Beginning its 31st year, the show is widely recognized as one of the best in the South. It runs for three full days and a ticket is good for all of them. The show is fun for browsing, learning about antiques, or serious shopping. Dealers are friendly and want to tell you about their items from the 1700s to the 1970s.  It's more fun if you bring others to share the experience. Dress up or down. Big hats and fun hats are encouraged. Our Facebook photographer will be looking for colorful characters to cover as they browse the show.
This year over 35 dealers from the east coast will present fine and unusual antiques, collectibles, art, military items, toys, furniture, jewelry and much more. It's an event for men, women, and older kids to enjoy and each may find that something special to purchase. During the weekend, attendees may even get to see the mysterious Red Lady, featured on the poster, wandering through the show.
Ticket holders can bring three items to be appraised by experts. Even if the weather is chilly, it will be warm in the beautiful riverfront convention center with its picturesque views of the river. Attendees can have lunch with delicious sandwiches and other food prepared in-house at the Convention Center cafe. Everyone is welcome to come back for more than one day, its included in the ticket purchase and functions like a show pass. All attendees can leave their ticket on their last visit for a door prize.
Show Details . . .
Dates:  February 10th, 11th from 10 a.m to 5 p.m. and February 12th from 11 a.m to 4 p.m.
Location:  New Bern Riverfront Convention Center, 203 S. Front St.
Tickets at:  Mitchell Hardware and online
Price:  Advance $8; Days of Show $10 – All tickets good for any and all three days.
Profits support the New Bern Preservation Foundation a community non-profit and its projects such as the renovation of the Union Station Depot currently underway. Now in its 45th year, the NBPF has saved over 60 structures in New Bern. Membership is open to all interested in historic preservation.
To learn more visit NewBernPF.org, like us on Facebook, or call our office at 252-633-6448.
Submitted by: Lee Purcell, Chair, New Bern Antique Show and Sale