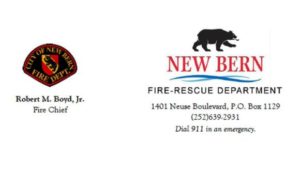 New Bern Fire-Rescue Division Chief Jim McConnell has been selected Fire Officer of the Year by the Eastern Carolina Firefighters' Association (ECFA), a division of the North Carolina State Firefighters' Association. He received the honor last night at the ECFA's quarterly meeting, held at New Hope Missionary Baptist Church in Wilson, NC.
Chief McConnell had no idea he had been nominated for the award. He and his wife were accompanied to the event by Chief Bobby Boyd. "Complete surprise. I was shocked, really. It means a lot," said Chief McConnell. When Chief Boyd found out McConnell had won, he notified McConnell that he and his wife were needed for a special evening on Thursday, January 12. "I didn't tell him where we were going, only that I needed his company on that night," said Chief Boyd.
The ECFA includes 37 counties in eastern North Carolina. Its mission is to provide education, information and representation to its membership. The organization hosts quarterly meetings updating members on new initiatives, support, strategies and equipment, and hosts guest speakers at each meeting. Thursday night's speaker was State Fire Marshal and Insurance Commissioner Mike Causey.
The nomination period for Fire Officer of the Year closes November 30th. The award is a lifetime award, not one that is specific to an accomplishment, incident or good deed. Chief Boyd submitted information to ECFA about the depth of McConnell's education and training.
Chief McConnell was born and raised in Pittsburgh, Pennsylvania. He enlisted in the United States Marine Corps in 1993 and left the Corps in 1997 at the rank of sergeant. He became a member of the New Bern volunteers "Atlantic Company" in November 1998 and was hired by the City of New Bern Fire-Rescue in June 1999. In his first five years with the City, he obtained several certifications including: firefighter certification, driver operator and aerial certification, and technical rescue. His technical rescue certification includes vehicle extraction, structural collapse, water rescue, rope rescue, trench rescue, and confined space rescue. Chief McConnell participates in many critical areas of New Bern Fire-Rescue including as a TRT team member, safety troupe member, instructor for the training division, member of the honor guard, health and wellness representative, and as a safety officer.
"We are so proud of him. He is very deserving of this award," said Chief Boyd. "He exemplifies what it means to be a firefighter, a leader, and a representative of New Bern Fire-Rescue. He has dedicated his life to firefighting, training and safety. He is a highly respected and valued member of our department."
Submitted by: Colleen M. Roberts, Public Information Officer, City of New Bern