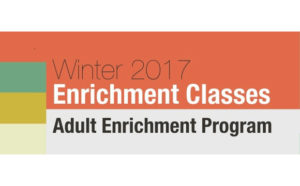 The 2017 Adult Enrichment Program winter session offers an expanded list of 50+classes in nine categories. Designed to be highly engaging, the non-credit, short term fee based classes take place on various dates at the New Bern and Havelock campuses over the next three months. A complete list and detailed information on scheduled classes, fees, dates and locations can be viewed by going to CravenCC.edu/AEP.
Classes beginning in January are:
Arts/crafts: Hand Quilting: An introductory Workshop; Metal Jewelry Class; Needle Art: Surface Embroidery & Crewel; Painting With Acrylics Watercolor Basics of Painting – Introduction to Pottery
Language: French for Travel and Spanish for Beginners & Travel
Money Matters: Selling on ebay
Enrichment/Special Interest: Poetry Writing: Next Steps; Spelling Does Not Count – Writing Your Memoir; Creative Writing; How to Drug Proof Your Kids/Grandkids
Health & Wellness: Pilates on the Mat; Modern Tai Chi (Yang Style)
Music: Drum Set/Workshop: beginners to advanced; Guitar 101; Guitar 201
Home& Garden: Cake Decorating – Wilton Cake Design – Course 1
A complete listing of classes scheduled for the winter session are available at CravenCC.edu/AEP.
Registrations can be made on-line, by phone at 252-638-7248 or by going to the Workforce Development office in the Brock Administration Building, room 114. Credit card, check or cash payments are accepted.
For those who are interesting in teaching a class or have suggestions on topics that could be offered, contact Susan Moffat-Thomas, Enrichment Program Coordinator at 252-638-1367.
Submitted by: Susan Moffat-Thomas