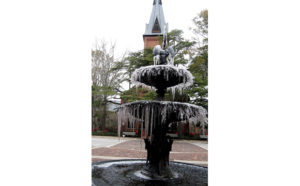 It looks like it's going to be a chilly weekend, but we hope that doesn't stop you from attending these events. Please be safe if we have snow and ice!
6th: Explorations: The International Film Series "Into the White", 2:30pm and 7:30pm in the Orringer Auditorium at Craven Community College. Call 252-633-2618.
7th: "Fiber Arts Day", 8:00am – 2:00pm at the New Bern Farmers Market. Call 252-633-0043.
7th: Casablanca Jazz and World Music Trio in Concert, 8:00pm at The Brown Pelican. Call 252-631-5008.
8th: Rock'IN 2017 Zumba® Master Class with Yutty Navarro & Sara Blohm, 1:00pm – 3:00pm at the Havelock Recreation Center.
8th: 10th Annual Ed Bearss Lecture,  A Historian Reflects on the Civil War, 2:00pm at Cullman Performance Hall, NC History Center at Tryon Palace. Presented by the New Bern Historical Society. Call 252-638-8558.
Tell us what you think sending us an email. Visit New Bern Now's Facebook page or sign up for the latest updates by submitting your email address in the right margin on New Bern Now's website.
Wendy Card