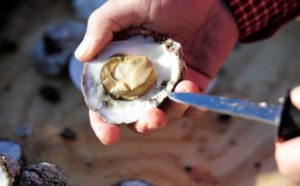 Oyster Revival Provides Life-Changing Scholarships
As we pursue a healthier lifestyle in this era of Fitbits and Paleo diets, keep in mind what researchers already know:  helping others lowers stress levels, makes us feel happier and live longer. As John Andrew Holmes said, "There is no better exercise for the heart than reaching down and lifting people up."
That's what Pamlico Community College Foundation's 7th Annual Great Oyster Revival is all about. Helping others. What do a Certified Nursing Assistant, a public school teacher, and a future substance abuse counselor have in common? They "Discovered Tomorrow's Possibilities" at Pamlico Community College with the help of Foundation scholarships. That's where you come in. Spend a leisurely Saturday afternoon in February feasting on all-you-can eat freshly-steamed oysters and gourmet chili while listening to pop, classical and Irish tunes by the Pamlico Flutes, and  you'll be making it possible for deserving students to discover tomorrow's possibilities. Tickets are just $30 for all you can eat, live entertainment, fun and fellowship. And – to honor educators–with an ID educators pay just $25.
Not crazy about oysters? Let's talk about the chili. We're not talking your average ground beef slathered with chili powder. Last year there were 12 pots of chili–bear chili, venison chili, Argentinian-style, something called Snake Bite Chili, Texas Chili, black bean chili, veggie chili. Rumor has it this event doubles as a chili cook-off with a prize and trophy, so it is sure to attract a smorgasbord of exotic, world-class chilies. More details on the cook-off will be forthcoming.
Or give your ticket to a friend. Or consider making a donation to the Foundation. Help lift people up.
Mark your calendars for Saturday, February 25, 3-5 p.m. at Pamlico Community College for all-you-can-eat oysters and chili, live entertainment, fun and fellowship while helping others achieve their dreams. Call 252-249-1851, ext. 3084 for more information on the event or how to make a donation. Tickets will be available at the college bookstore at 5049 Highway 306 South, Grantsboro, the Chamber of Commerce office on Highway 55 in Grantsboro, Bayboro Pharmacy, and Nautical Wheelers and Oriental Deli and Subs on Broad Street in Oriental. Tickets can also be held at the gate with a credit card by calling the above number.
As one attendee said, "Whatever you do, don't miss this Pamlico County tradition. There is not a better time to be had in the Western Hemisphere!"
Written by: Michelle Noevere
Submitted by: Karen Dodd, Volunteer PR for PCC