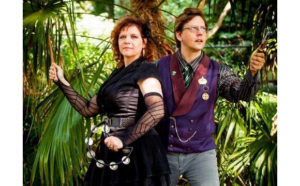 Wizard Rock descends on New Bern!
Saturday, February 4
"What is a wizard rock band?" you ask. The Blibbering Humdingers specialize in music about Harry Potter, Doctor Who, Celtic Myth, medieval fantasy, and science fiction. Scott & Kirsten Vaughan of Cary, NC began performing together in 1992 and have played hundreds of shows over the years at Sci-Fi conventions, Renaissance Faires, and Harry Potter conventions. Their sound ranges from folksy and medieval to 50's Doo Wop, 80's Pop, and straight up acoustic rock. If you're a fan of Weird Al Yankovic, Jonathan Coulton, or other "geek" music, you won't want to miss the Blibbering Humdingers' wit and goofy humor. Scott and Kirsten play guitars and assorted other instruments of musical mayhem. More about them at BlibberingHumdingers.com.
Trent River Coffee Company is at 208 Craven Street in New Bern. Doors open at 6:30, and the music begins at 7:30pm. Tickets are $5 (such a deal!), available at the door. Call 252-514-2030 for more information.
Submitted by: Simon Spalding