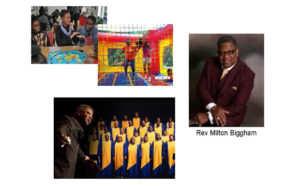 Martin Luther King Family Community Fun Day
Saturday, January 14, 2017 from 11:00am – 3:00pm at the Omega Center, 800 Cedar St. in New Bern.
Free Admission, free food and door prizes!
MLK Memorial Service
Sunday, January 15, 2017 – 4:00pm at St. Peter's AMEZ Church, 617 Queen St. with Speaker: Rev. Milton Biggham, Mt. Vernon Baptist Church, Founder, Georgia Mass Choir.
MLK Gospel Concert
Monday, January 16 from 12:00pm – 3:00pm at Grover C. Fields Middle School, 2000 Dr. MLK Jr. Blvd. The Georgia Mass Choir in Concert.
Tickets available now – Donations: $25.
For more information, Call 252-638-1518 or 252-514-8641, send an email, or visit MLKSAC.com.
Submitted by: Tharesa Lee